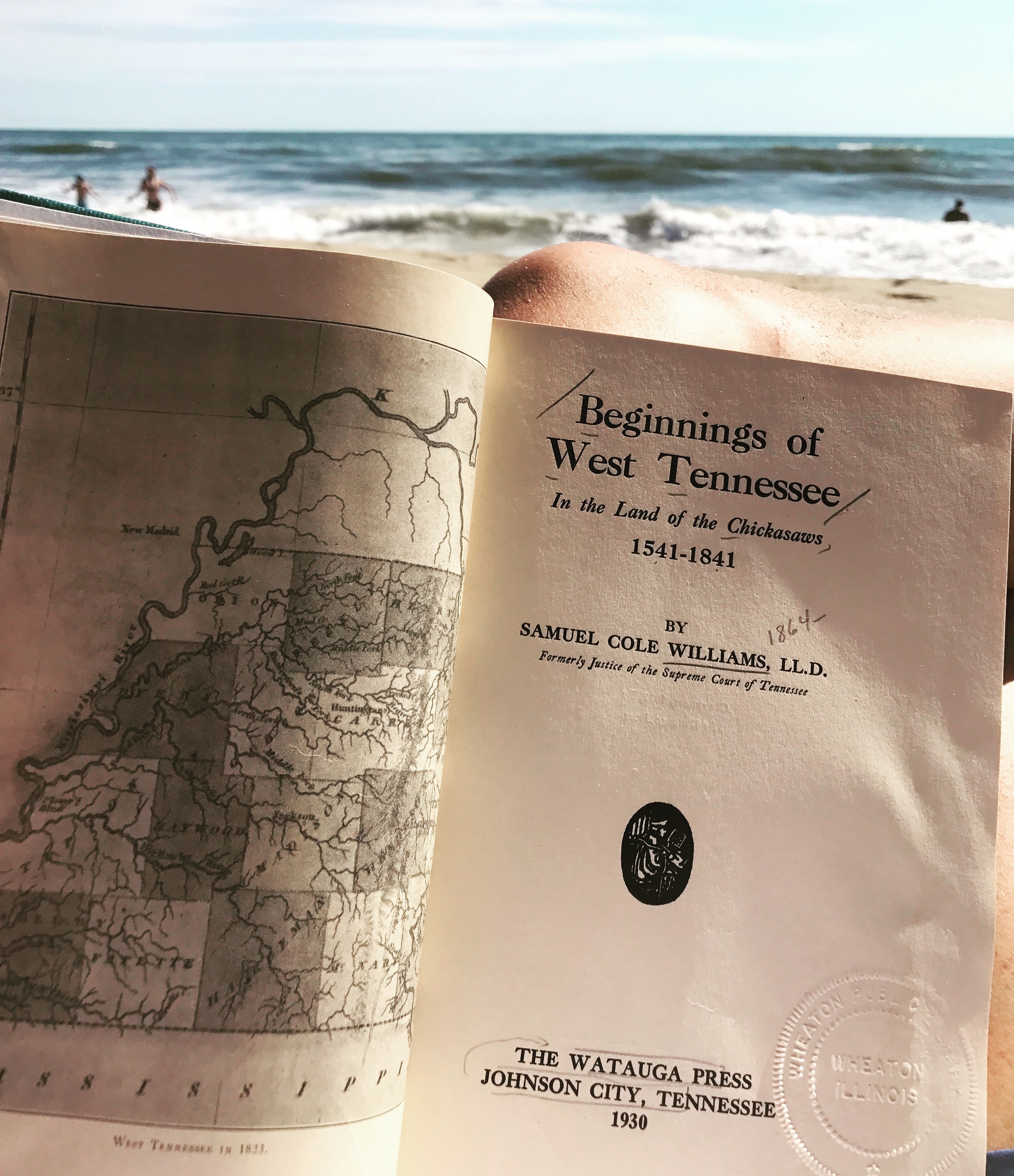 While on vacation recently, I finally had a bit of time to catch up on some books I've been wanting to read for a while. One was "Beginnings of West Tennessee: In the land of the Chickasaws, 1541-1841" written by Samuel Cole Williams (1864-1847) and published in 1930.
The author (no apparent connection to my Williams family line) was born in Humboldt, Tennessee in 1864 to Thomas Jefferson Williams and Martha Cole. His paternal grandparents were Eli Williams and Cloe Collins and his maternal grandparents were Samuel Cole and Olive Hines. He notes in his dedication that his parents were "as infants taken by their parents from North Carolina to West Tennessee in the early thirties—years of the region's own infancy."
As that's the same path taken by my own ancestors, I was anxious to see what he had discovered in his research. I wrote a bit about that here, but I also became curious about the author so I did a bit of digging.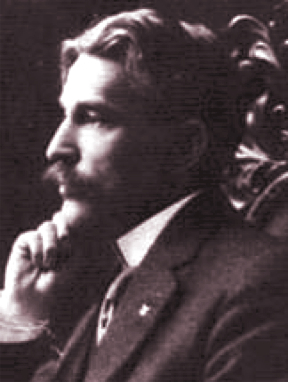 Samuel Williams attended Vanderbilt University's School of Law, graduating in 1884. He achieved much in his life and career. He was a partner in the Watauga Light and Power Company, the Johnson City Streetcar Company, the Banking and Trust Company, Empire Chair Company and the John Sevier Hotel. He became Chancellor of First Chancery Division of Tennessee. Williams served on the Tennessee Supreme Court and as first dean of the Lamar School of Law (also known as Emory University School of Law) at, Emory University in Atlanta, Georgia from 1919 to 1924.
In 1892, he married Mary Tremble Mayne of Ohio. They had two children: Mayne Williams (1893-1897) and Gertrude Mayne Williams Miller (1897-1986) Gertrude married Robert Rush Miller and they had three children: Robert Rush Miller, Jr. (1897-1934), Mayner Williams Miller (1923-1979) and Haynes McNeil Miller (1926-1967).
The Death of Mayne Williams
Samuel and Mary's son, Mayne, died tragically at four years old after eating sugar-coated quinine pills.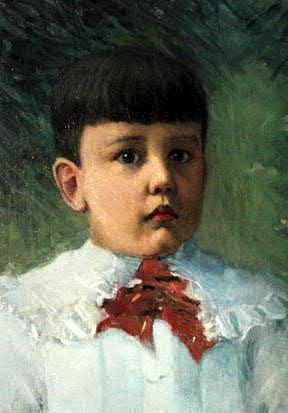 The Thursday, August 5, 1897, edition of a local newspaper, The Comet, included details of the child's sad death. "In the lad's playful rambles, he encountered a package of pills and swallowed a considerable number of them. When he was discovered soon afterward by his grandmother, the youngster was lying on the floor and told her he was sick. On being questioned, his innocent reply was: 'I took a whole lot of medicine; I'm so sorry.'"
Mayne Williams died within 40 minutes of being found by his grandmother. In 1913, Samuel Williams gave a parcel of land and $10,000 toward construction of a public library in Johnson City, Tennessee in memory of his young son.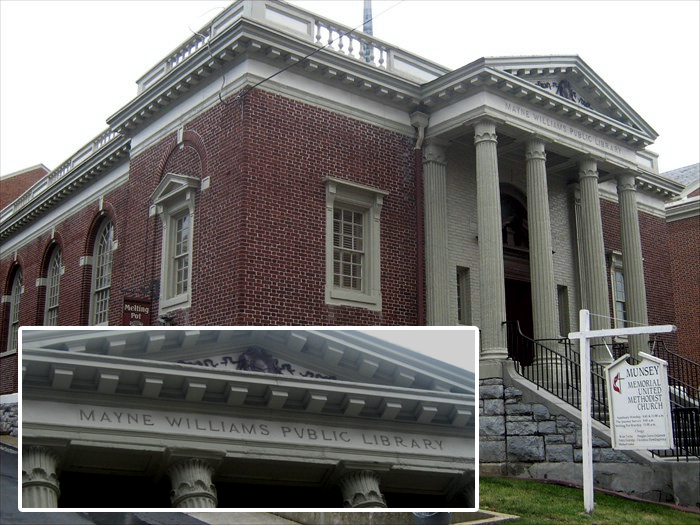 The Mayne Williams Public Library opened to the public on January 1, 1923. Today, the former library belongs to the Munsey Memorial Methodist Church.
The Dean of Tennessee Historians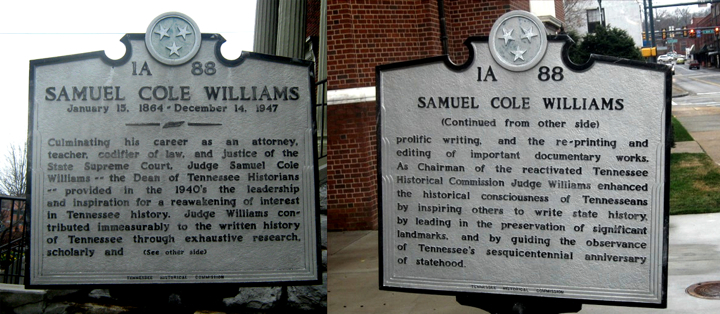 Samuel Williams was a scholar, historian and collector of Tennessee history, and from 1941 to 1947 he served as Chairman of the Tennessee Historical Commission. Throughout his life, Williams wrote many books about the history of Tennessee: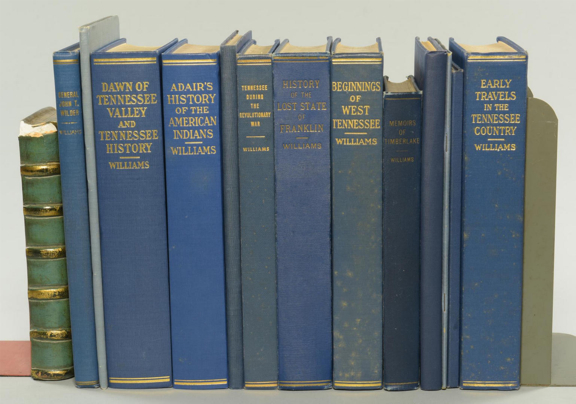 William Tatham, Wataugan, 1923
History of the Lost State of Franklin, 1924
Lieut. Henry Timberlake's Memoirs, 1756–1765, editor, 1927
Early Travels in the Tennessee Country, 1540–1800, 1928
Adair's History of the American Indians, editor, 1930
Beginnings of West Tennessee: In the Land of the Chickasaws, 1541–1841, 1930
General John T. Wilder, Commander of the Lightning Brigade, 1936
Dawn of Tennessee Valley and Tennessee History, 1937
History of Johnson City and its Environs, 1940
Phases of Southwest Territory History, 1940
The Lincolns and Tennessee, 1942
Tennessee During the American Revolutionary War, 1944
Phases of the History of the Supreme Court of Tennessee, 1944
The Admission of Tennessee into the Union, 1945
Ann Robertson: An Unsung Tennessee Hero, 1945
William Tatham, Wataugan, 1947
Williams' wife Mary died in 1917 and he married Isabel Hayes of Nashville, Tennessee in 1919. With his second wife, he had a daughter, Martha Cole Williams.
If you're into researching genealogy and the history of Tennessee like I am, I bet you would love to dive into The Samuel Cole Williams Papers at Tennessee State Library and Archives. From the archives description:
The Samuel Cole Williams Papers containing approximately 800 items, span the period 1765–1947. The collection consists of accounts, cards, clippings, correspondence, court records, diaries, memoirs, etc., genealogical data, land records, legal documents, lists, notes, photographs, sketches, writings and several miscellaneous items.

A large part of the collection is composed of notes taken by Samuel Cole Williams on the early history of Tennessee. The notes, often taken on the back of correspondence, blank checks, or scraps of paper, cover a wide range of Tennessee topics and famous pioneers, including the Cherokee and Chickasaw Indians, the State of Franklin, Moses Fisk, Colonel William Christian's expedition against the Cherokee in 1776, Nathaniel Gist, Fort Loudon, William Tatham, Henri Timberlake and the Watauga settlement. These notes served as research material for the many books and articles published by Williams on various aspects of Tennessee history.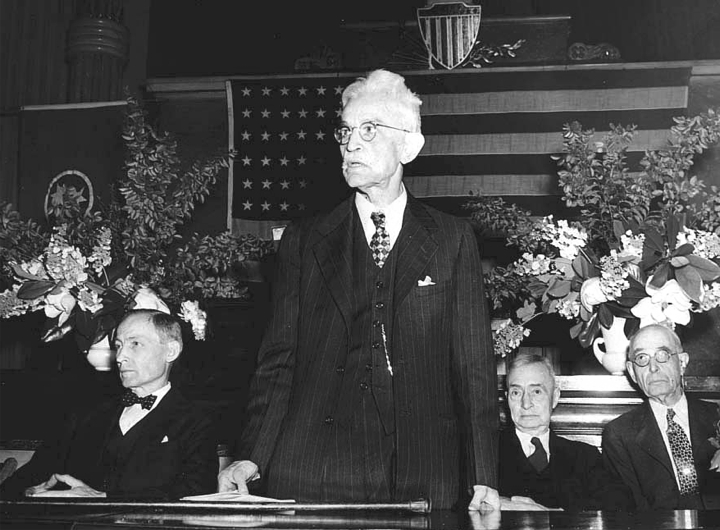 Retirement
As Frank L. Owsley wrote in The Mississippi Valley Historical Review, "There are few states which are so fortunate as Tennessee in the possession of an able scholar whose time and thought are devoted to the study of local history."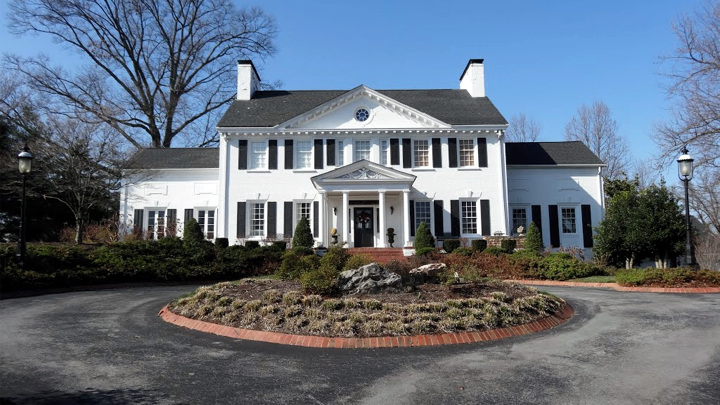 Williams retired to his home, "Aquone," in Johnson City, Tennessee in 1925. It's now named on both the Tennessee Historical Register and the National Register of Historic Places.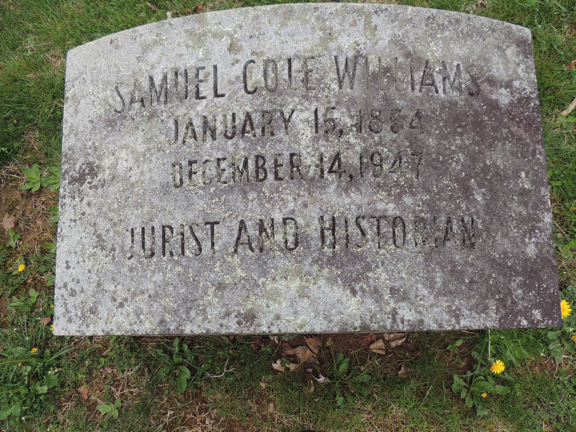 Williams died Dec. 14, 1947 and was buried at Monte Vista Burial Park in Johnson City, Tennessee. In addition to the archives referenced above, Williams' papers can be found in the East Tennessee State University Archives of Appalachia, the University of Tennessee's Frank H. McClung Museum and in the Archives of Emory University.
His contribution to Tennessee history was significant and I look forward to reading more of his work in the future.
Return Home
Author Samuel Cole Williams, Tennessee Historian