While back in Tennessee a few weeks ago, I had a chance to visit a few of my favorite Haywood County spots with my father and youngest daughter. I shared our visit to the remote Brantley Family Cemetery with my Facebook friends.
Sadly, I discovered lightening had struck one of the trees in the cemetery and damaged a few of the headstones. The  descendants of this family are planning a clean-up day, but I did want to add a little more context by sharing a little about a few of the ancestors who are buried there.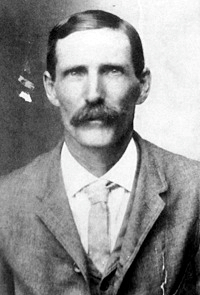 Henry Day Brantley
Henry Day Brantley is my 3rd great-grandfather. He was the father of Preston Guy Brantley, the father of Willie Day Brantley, the father of Virginia Brantley Lovelace, the mother of Shirley Lovelace Williams who is my mother.
Henry was born in 1845 in Haywood County, Tennessee to Augustus and Martha White Brantley. Henry joined Zion Baptist Church at the age of 14 and was baptized by Reverend George E. Thomas. He was married to Margaret Rebecca Steele on March 27, 1866 when Margaret was just 14 and he was 21.
Margaret's father was Andrew Patterson Steele and her mother was Sarah Elizabeth Butterton. The Brantley, Steele and White families were all from Bertie County, North Carolina and were original settlers of Haywood County in the early 1830s.
Henry and Margaret's children were:
Julia Anna Brantley, 1868-1884
Martha Elizabeth Brantley Cobb, 1870-1948
Henry Preston Brantley, 1872-1956
Walter Earl Brantley, 1875-1933
Edward "Eddie" Brantley, 1878-1880
Archie E. Brantley, 1878-1953
Vivian Everett "Viv" Brantley, 1882-1964
Reginald A. Brantley, 1889-1919
Margaret Eula "Maggie" Brantley Joyner, 1889-1964
Wayland E. Brantley, 1891-1968

Henry Day and Margaret Rebecca Steele Brantley likely with Maggie,
Reginald and Wayland. The photo was likely taken before 1900.
In the census of 1870, Henry was 25, Margaret was 19 and they had two children, Julia who was 2 and Martha who was not yet 1. They were farming 600 acres. 10 years later, in 1880, Julia was 12, Martha was 10, and they had added Henry Preston who was 6, Walter who was 4, Edward who was 2 and a 2-month-old baby who was not yet named (Martha Elizabeth Brantley).
2-year-old "Eddie" died soon after the census was taken in 1880 and was buried in that family cemetery, several hundred yards behind their cabin.
Henry had built a cabin off what is now Cobb Crossing Road. In later years, Rabbit and Ludie Mae Lovelace and their eight children lived in a big white house that was built around the original Brantley log house. A cousin remembers they never had any grass in the yard because they had so many children. After Rabbit and Ludie Mae died, the house—with the exception of the chimney—was torn down and Henry Brantley's cabin was partially restored (pictured above). It was still there in 2012, but as I discovered on this visit, it's now gone. I had been told that his initials were carved on one of the beams by the front door. I sure wish one of our family members had that section of the beam.
Julia Anna Brantley died a few years later in 1884 when she was just 14 and was also buried in the family cemetery.
Obituary of Julia A. Brantley
Sister Julia A. Brantley daughter of Henry D. Brantley and M.B. Brantley was borned the 24 of January, 1868 and was baptized in the fellowship of Zion Church the 24 of August 1882 and lived a consistent member until death which was the 19th of December 1884.
Written by Committee: J. C. W. Cobb, D. H. Watridge and W. D. Joyner
Sim Cobb was a friend of Henry Brantley and portions of Sim's diary, found in the book Nicholas Cobb Descendants, include mentions of Henry and Margaret.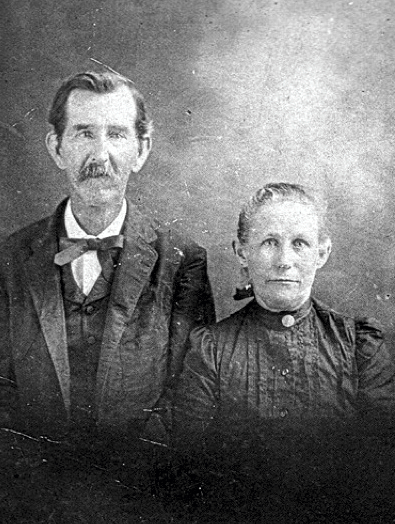 Henry and Margaret Brantley
In 1900, Henry was 55 and Margaret was 48. Living at home was Archie who was 20, Vivian who was 18, Reginald who was 14, Maggie who was 11 and Wayland who was 8. Also living in the home at the time was Archie's 20-year-old wife, Mary Castellaw Brantley who was the daughter of John Dawson Castellaw and Emily Thomas. John Dawson was a brother of my 2nd great-grandfather Thomas Jefferson "T. J." Castellaw.
It's interesting to me that three daughters of John Dawson Castellaw married three sons of Henry Day Brantley.
In addition to Mary Castellaw marrying Archie Brantley, Emily Castellaw married Walter Brantley and Josephine Castellaw married Viv Brantley.
Henry and Margaret's daughter, Martha Elizabeth Brantley married James Thomas Cobb, a son of John David Cobb and grandson of James Cowan Cobb.
Henry and Margaret's daughter, Maggie, married Thomas Raymond Joyner (1886-1970).
Henry and Margaret's son, Wayland, married Ella Mae Jacocks (1890-1977).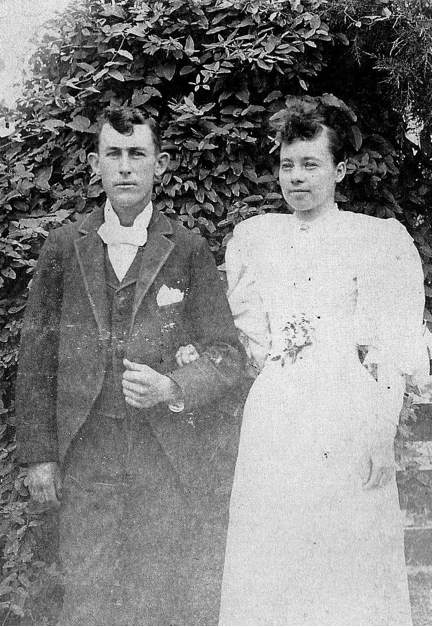 Henry Preston and Mary Etta Cobb Brantley
Henry and Margaret's son, Henry Day, married Mary Etta Cobb (1850-1930) in 1894. They are my 2nd great grandparents. Mary Etta was the daughter of William Thomas Cobb (1833-1898) and Elizabeth Temperance Outlaw Cobb (1833-1925).
By 1910, Henry and Margaret had only one child still at home: Wayland who was 19. The others had either died or moved to farms of their own in the area.
In his last years, Henry Brantley suffered from an illness, the nature of which was not determined at the time, but has since been thought to have been Parkinson's Disease. He died on November 5, 1918. His son Reginald died just 11 months later at age 33. The cause of Reginald's death was pneumonia brought on by influenza.

Headstones in the Brantley Family Cemetery
Obituary of Henry Day Brantley
Brother Henry D. Brantley was born in the year 1845. He was the son of Augustus and Martha Brantley. He joined Zion Church at the age of fourteen years and was baptized by Rev. George E. Thomas. He was married to Margaret Steele in 1866 to whom ten children were born. Two have passed over the river. There are 24 grandchildren. He departed this life in November, 1918.

Obituary of Reginald A. Brantley
Whereas it has pleased the Lord in his infinite wisdom to take from our midst our brother Reginald A. Brantley. Bro Brantley was born Oct 26th 1885 and he died Feb. 16th 1919. He joined Holly Grove Baptist Church at the age of 16, after being a member of this church three years he moved his membership to Zion, where he was a member when death claimed him. Therefore be it resolved that the community in which he lived has lost a good citizen, his wife a loving dutiful husband, and be it further resolved that we extend our sympathy to his bereaved companion, widowed mother and two little fatherless girls commend them to Him.
Reginald had married Crotie Ethel Williams (1894-1928) and his daughters were Elven Brantley (1908-1926) and Alma Brantley (1913-?).
When Henry died in 1918, Margaret moved in with her son and daughter-in-law, Archie and Mary Castellaw Brantley, and lived with them for 12 years until 1930 when she died at 80 years old.
Margaret Brantley late in life
She was buried next to Henry in the family cemetery and, at some point, a conch shell was placed on her headstone. Whether its true or not, I've always liked the idea that perhaps this was an item her family brought with them to Haywood County from Bertie County, North Carolina, which is close to the ocean.
She never visited Bertie County, that we know of, so perhaps this was a family keepsake and a reminder of her own roots.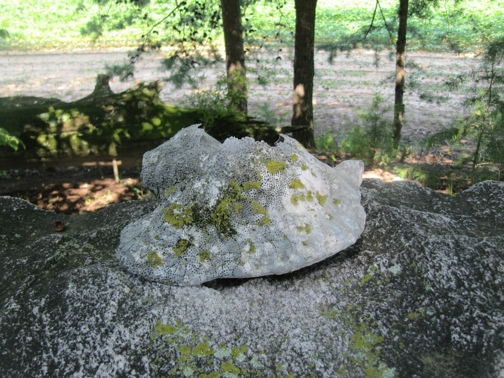 When lightening stuck the tree, it must have knocked the shell off the headstone because I couldn't find it anywhere around the area. Thankfully, I have this photo of the shell I took when I visited in 2012.
You can read more about the Brantley on the Brantley page of HaywoodCountyLine.com or read more blogs posts on my blog page. If you are a Brantley, you should also check out the website of the Brantley Association. 
Brantley Family Cemetery Struck by Lightening