My 10th great-grandfather, "Captain" James Blount, was born about 1620, likely in Astley, Worcestershire England. His father was also named James Blount and his mother's maiden name was Clare. Her first name is unknown.
He became a colonial official and one of 18 leaders in a political battle that came to be known as Culpeper's Rebellion. It was one of the very first acts of rebellion in any of the English colonies.
From James Blount to Me

Captain James Blount I was the father of James Blount II
who was the father of Elizabeth Blount Yelverton
who was the mother of
John Yelverton
who was the father of
John Yelverton Jr.
who was the father of
Hardy J. Yelverton
who was the father of
Etheldred Yelverton
who was the father of
Samuel Yelverton
who was the father of
Maggie Yelverton Marbury
who was the mother of
Hardy Joyner Marbury
who was the father of
Allie Marbury Brantley
who was the mother of
Virginia Brantley Lovelace
who was the mother of
Shirley Lovelace Williams
who was the mother of me.
At some point, Blount's family moved to Isle of Wight County, Virginia and, according to records, he was still living there in 1660 when he was 40 years old. He moved to the Albemarle colony by 1669, when he was a member of the Albemarle council.
From April 21, 1669 thru 1684, Blount shows up in records as a council member in the Albemarle colony so likely lived there until his death at the age of 66.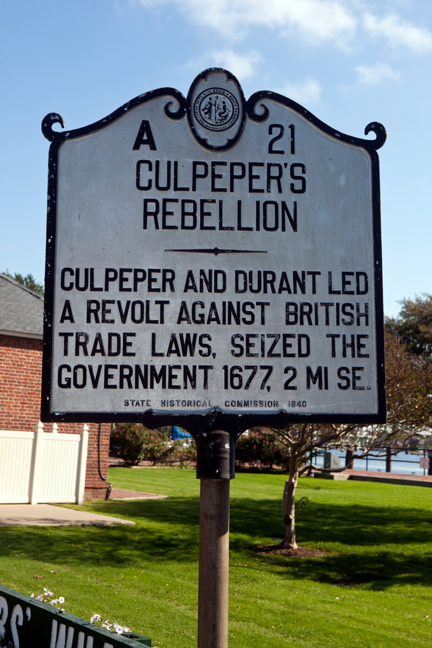 Historic marker for Culpeper's Rebellion located
on Water Street in Elizabeth City, North Carolina
Culpeper's Rebellion, the cause that Blount joined in 1677, was begun by the colonists frustration in the enforcement of the British Navigation Acts. The colonists were denied a free market outside England and had heavy duties and taxes placed on commodities. Their anger was eventually directed at the governor, Thomas Miller, who was also responsible for collecting the fees from the colonists.
"Thomas Miller was not a person to attract friends in great numbers. Although dictatorial, he was a most efficient man, possibly too much so. Given to excessive drinking and loose talk, he more than once abandoned discretion in conversation to voice an opinion, often derogatory, on almost any subject. In his lust for power, Miller was guilty of "many extravagant things," decreeing strange limitations for members of the legislature and levying fines without even the pretense of a trial. If these dictates were ignored, Miller was not hesitant to publish warrants calling for the apprehension, dead or alive, of some of the most prominent men in the county." Source
Blount and others followed John Culpeper and George Durant in imprisoning Miller and other officials. They then started their own government and chose Culpeper as their governor. Blount was a member of the rebel parliament and the rebel council that governed the colony during this time. After two years, Culpeper was finally removed by the English and tried for treason and embezzlement.
After the restoration of the English government, Blount continued to serve on the council and shows up in records in the years 1679, 1681, and 1684. He was a justice of the county court of Albemarle in 1682 and 1683.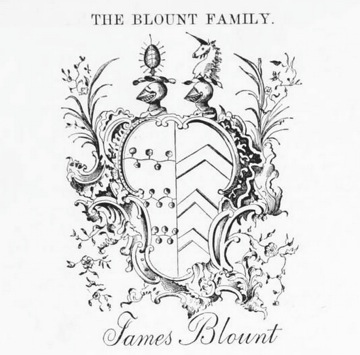 Image from Wheeler, "Reminiscences and Memoirs of
North Carolina and Eminent North Carolinians," 1884.
According to Beverly Ramsey, the image of the Blount coat of arms above is from an engraving on a metal plate that was in the Blount family until the early 1800s. At that point, it was owned by William Biddle Shepard, who was a descendant who was running for congress. He destroyed the plate to prove he was not "too aristocratic."
Helen Malvina Blount Prescott stated in her unpublished manuscript that the copper plate had been taken from James Blount's tomb. More info on the coat of arms can be found at lamartin.com.
He lived in Chowan Precinct, where he owned 300 acres of land in the 1670s. His holding was enlarged by a grant of 660 acres in 1684 to create a plantation that came to be known as Mulberry Hill. It was on the north side of the Albemarle Sound.
Blount was married twice. His first wife, whose name is not known, was the mother of five of his children: James (who is my 8th great-grandfather), Thomas, John, Ann and Elizabeth. Blount's first wife died between Sept. 27. 1670, when she was a witness in court, and June 13, 1683, when Blount married for the second time.
His second wife was Anna Riscoe, widow of Robert Riscoe of Albemarle and daughter of Belshassar Willix of Exeter, New Hamshire. She and Blount were probably married shortly before June 13, 1683, when Blount obtained administration of Riscoe's estate "in right of his wife."
Blount died in 1686 and his will was proved on July 17. By that time his two daughters were married and each had at least one child. In the will, they were referred to as Elizabeth Hawkins, who had a son named John, and Ann Slocum, who had a daughter named Ann.
The Will of James Blount

In ye name of God Amen. I James Blount, of Chowan precinct, in ye County of Albemarle, in ye Province of Carolina, Esqr., well knowing the uncertainty of this life, Do make, Ordain & appoint this to be my Last Will & Testament, hereby Revoking & Adnulling all former Wills by me Made, and this Only to be taken & reputed as my Last Will.

Imp. I Bequest my Soule to God who gave it; & my body to ye Earth to be Decently Interrd; & and for that Worldly Estate wch it hath pleased God to bestow upon me in this Life; My Just Debts, funeral Expenses & Legaties being first payd, i give & bequeath as followeth:

Item. I give unto my son, James Blounte, one Shilling in Countrey Commodities to be pd him by my Executrix hereafter named, w'thin one year after my Disease.Item. I give unto my son, Thomas Blounte, & to my two Daughters, Ann Slocom & Eliz. Hawkins, Each of them twelve pence a peice in Country Comidities to be paid them within one year after my Dissease.

Item. I give & bequeath unto my Grand Children, James & Sarah Blounte, the Children of my Son Thomas Blount, & to Ann Slocum ye child of my Daughter Ann Slocom, & to John Hawkins ye Son of my Daughter Eliz Hawkins, Each of them a Cow & Calfe to be paid to their several parents w'thin three years after my Discease in some sort of Stock to run for ye use and behoofe of ye Sd children, till they Severally Com of age and Mariage Capacitated to receive ye Same.

Item. I give & bequeath all ye remainder part of my Effects Reale & personall whither it Consist in Lands, houses, negroes, Servants, Stock, household goods, or any other Kind of Specie w'tSoever, unto my Loving wife Ann Blounte for her to have, hold, Occupie & enjoy, During her Naturall Life w'thout Lett or Controule, and att her Death to Dispose of ye Same to ye Value of Sixti pounds in Countrey Comodities to Whoever She Shall think fitt. And after her, my Wifes Disease, I give ye whole remainder of my Estate to my Son, John Blount, and his heirs for ever; And I do hereby appoint and ordaine that my said son John Shall be Decently Maintained out of ye Estate During his Minority.

And in Case my said Wife, Ann Should Live till after my Said Son John Should come of Age, then if he Should happen to Marry, or to go to Live in some Other place from Sd Wife, then Shee to pay him thirty or forty pounds wch Shee please, in Country Comodities.

Lastly, I appoint my Loving Wife, Ann Blounte, my whole & Sole Executrix of this my last Will & testament, Desiring her to be carefull in every Article & Clause thereof; & for Confirmation of ye Same I have hereunto sett my hand & Seale, this 9th day of July, In ye year of Lord God, 1685. March ye 10th &c. Before signing sealing or Publishing I do hereby Appoint yt, in Case My Son Jno Should Dye w'thout heirs Male, then I give & bequeath all my lands & houses to ye heirs Male, of My son Thomas Blounte & so successively do Entaile the same on their Heirs Male of my son Thomas forEver; But in Case the heirs Male, of my Said Sons John & Thomas should both fayle, then I Intayle ye Same on ye heirs genall of my Son Jno. first, then of my Son Thomas, & if both should fayl, then of the heirs of My Daughter Ann Slocum & Eliz Hawkins. James: Blounte (Seale) Signed, Sealed & Published as his Last Will & Testam't in presence of her mark Jane X Miller Jno Baily William Dobson Jno Wettinhall

This Will Proved by Jno Hall and Jane Miller on ye 17 Day of July, 1686, And by Will'm Dobson on the 11th of July, 1686, who upon their Oaths before me Duely administerd did Attest that they See ye Testator above named James Blounte, Signe & Seale And heard him Declare the Above written to be his last Will and Testament.
Blount's widow, Anna, whom he referred to in his will, married Seth Sothel, then Governor of the colony, one of the proprietors of Carolina and one of the colony's biggest tyrants ever seen.
After Sothel's death, she married John Lear, another prominent and very wealthy Virginian.
Tuscarora Indian with daughter
Photo from The Onondaga Portraits
by Toba Tucker

The first settlement of colonists in North Carolina began in 1653 and James Blount was living there by 1669. The Tuscarora Indians there lived in peace with the European settlers for over 50 years when nearly every other colony in America was in conflict with the Native Americans. While there are not a lot of details on the exact nature of the relationship, it is thought that the chief of the Tuscarora in the early 1700s was so close to the Blount family that he was baptized as "Tom Blount" taking the family name. Some think he was an orphan, adopted by a Blount and others think he was the offspring of an indian woman and one of the sons of James Blount.

Eventually, when the war against the settlers began in 1711, Chief Tom Blount refused to allow members of his tribe to take sides in it.

Many of the Tuscarora would move north to New York, and then partially into Canada.

You can read more about Tom Blount and the Tuscarora Indians on this blog post featuring photos from The Onondaga Portraits by Toba Tucker.
James Blount's grandaughter, Elizabeth, married John Yelverton Sr. You can read more about them on the Yelverton page of Haywood County Line.
For more blog entries or to check out the genealogy research about my specific family lines, go to HaywoodCountyLine.org.
Captain James Blount and Culpeper's Rebellion