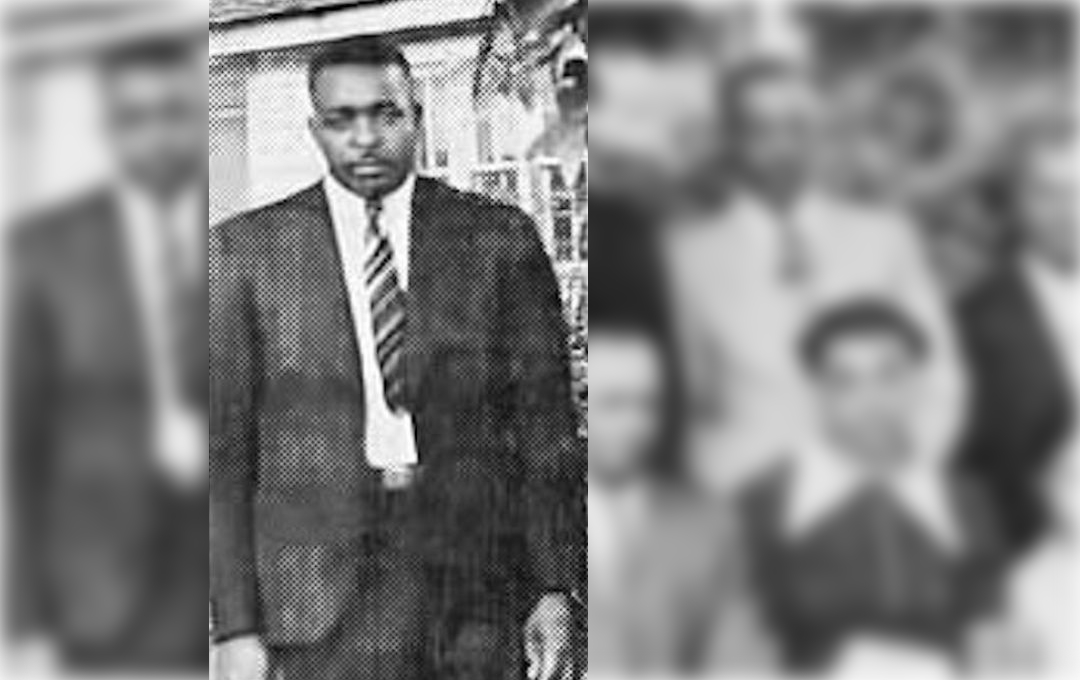 Elbert Williams of Haywood County, Tennessee
I've wanted to get something on my blog about Elbert Williams of Haywood County, Tennessee for a while now.
As the nation pauses this weekend to honor slain civil rights hero Martin Luther King, Jr. in the 50th anniversary year of his assassination, it seems like a good time to also remember Elbert Williams.
Brownsville attorney Jim Emison has done an amazing job researching and writing about Williams. Thanks to his efforts, Williams' story has now been shared around the world.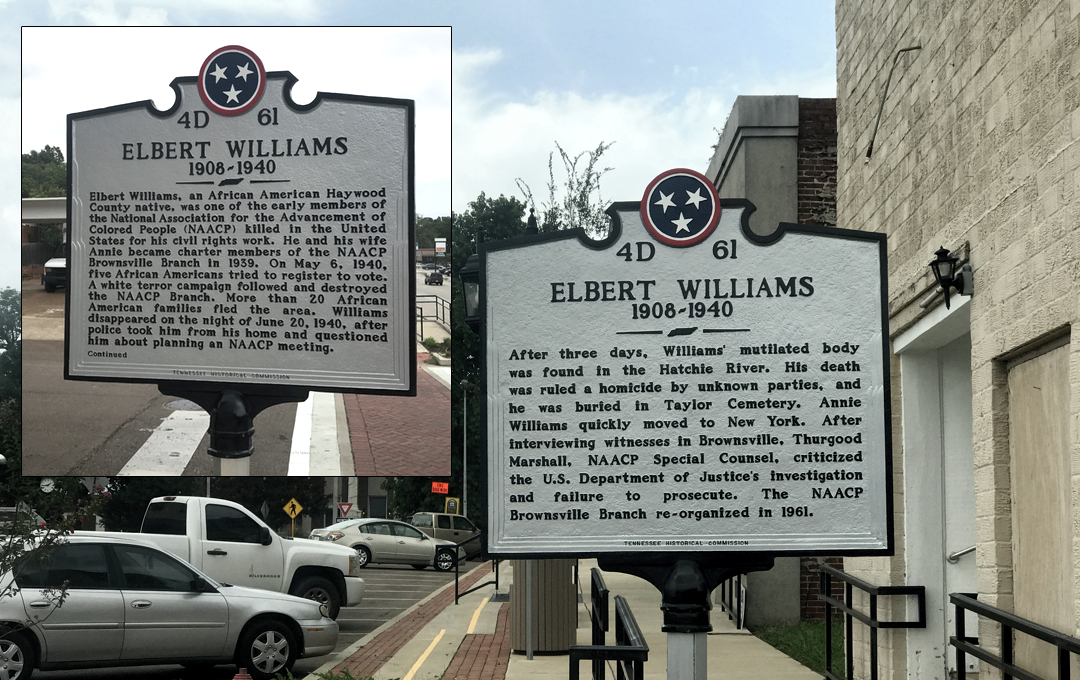 Historical marker honoring Elbert Williams and
recognizing his unique place in U. S. Civil Rights History.
I was reminded of Williams again this summer when I was home and ran across the historic marker that's just a block from the Brownsville Town Square.
His is a tragic story with an unfortunate absence of justice. It's also one that needs to be remembered, especially considering the national conversation we're having regarding how we should publicly commemorate and remember historic events—like Slavery, the Civil War and Reconstruction.
Elbert Williams was born on Oct. 15, 1908 in Haywood County. His parents, Albert and Mary Green Williams were farmers. After Williams married Annie Mitchell in 1929, he and his new wife moved to the town of Brownsville where they worked for the Sunshine Laundry. Williams worked at the laundry until he was murdered in 1940, becoming the first known NAACP member killed for his civil rights activity.
Williams had joined a group of black leaders in the community who were pushing back on a system that had been in place since the original Haywood County settlers, including my ancestors, migrated—along with their slaves—to the area in the late 1820s. Even though slavery had ended 75 years earlier, resistance to anything short of white supremacy was still embraced by many. It's clear some were willing to do whatever possible—even murder—to keep the power structure as it was.
Brownsville police and other white leaders in the county were angry that the NAACP was registering blacks to vote and led an effort to force them out of town. Their plan was to scare and intimidate Haywood County blacks so they would be too afraid to vote or even attempt to question their place in society.
Williams was planning to have an NAACP meeting at his house one night when a group of men led by police officer Tip Hunter showed up to "ask him some questions." The group also included policeman Charles Read and Ed Lee, the manager of the local Coca-Cola bottling plant at the time.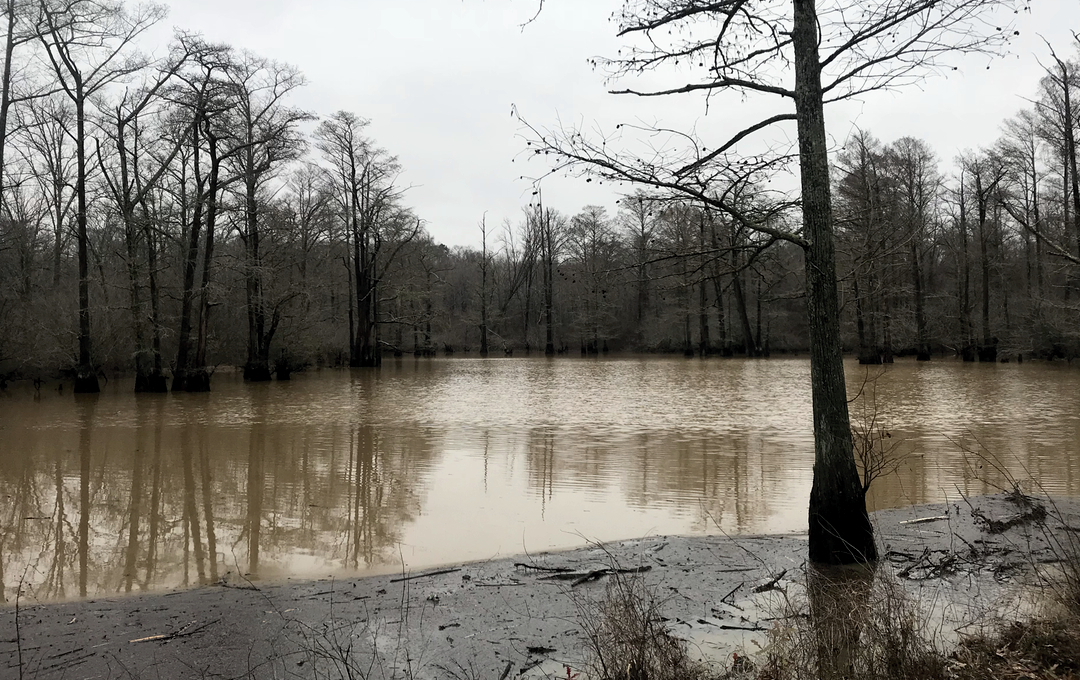 The Hatchie River close to location where
Elbert Williams' body was found and identified by his wife.
They kidnapped Williams and he was not seen again until three days later when his body was found in the Hatchie River. There was no autopsy and he was buried in an unmarked grave in the Taylor Cemetery.
Thurgood Marshall, later the first African-American justice of the Supreme Court, traveled to Brownsville to conduct an investigation and was even able to determine identities of many of those who were present when Williams was abducted. However, the FBI worked closely with policeman Hunter, even allowing him to be present during interviews with witnesses. They closed the case with little additional investigation in 1942, and Williams' murderers were never brought to justice.
Jim Emison's tour of sites in Haywood County
related to Elbert Williams murder
Haywood County attorney Jim Emison is uniquely qualified to remind the world of the injustice that took place that night. A resident of Alamo, Tennessee with a B. A. in History from Vanderbilt and a law degree from the University of Tennessee, he stumbled upon the forgotten story of Elbert Williams and has worked tirelessly ever since to make sure we do not forget Williams' sacrifice.
"It is the blood of individuals like Elbert Williams who have continued to struggle to redeem the soul of America and create the beloved community. . . the blood of the Elbert Williams is crying out saying we must not go back, we must not turn around we must go forward,  and in his name I plead with you to continue speak up, to speak out, and not let his death and the death and suffering of others be in vain."
U.S. Rep. John Lewis
In addition to the historic marker, on June 30, 2015, the 75th Anniversary of his murder, a memorial service was held for Williams in Brownsville.
Jim Emison and a group of experts he assembled have also been looking for Williams' unmarked grave so the criminal investigation case can be reopened and the slain civil rights hero can be respectfully buried in a marked grave.
Jim Emison shares more about
Elbert Williams with the Commercial Appeal
If you would like to know more about the case, you can listen to a 2015 story from "All Things Considered" about Williams that includes an interview with Jim Emison.
You can also find more about Emison's upcoming book, "First to Die," and see photos of many of the individuals involved in this case on Emison's website.
You can find out more about each of my specific family lines at HaywoodCountyLine.com or read more blogs posts about the history of West Tennessee on my blog page.
Elbert Williams: The First to Die