My direct descendants are in bold type. This is a work in progress. Much of my direct line is documented, but some may not be. If there is a question, I usually include words like "seems likely" or "possibly" in hopes that it may help someone else or eventually get me closer to documentation. Also, I do make errors when transferring info to my files or to the site. If you find errors that you can correct, please e-mail me and I'll gladly make the changes or if you have more information on anyone mentioned here and can share it, I would be really appreciative.
Oliver Fowler
My 3rd Great-grandfather, 1826-1859
Oliver Fowler was born in 1826 in Alabama. I am unsure of the identity of his parents but a number of Fowlers settled early in the area of McNairy County, Tennessee. In 1920, James Haynes of McNairy County listed Joe Fowler, Lige Fowler and William Fowler among the "names of great men you have known or met in his lifetime" in his Civil War pension application. Perhaps they were some relation to Oliver. As you'll see below, there is a connection between Oliver and Reddin Fowler who is likely a son of William Fowler, also born in Alabama.
Oliver married Annie Plunk in 1848 at the age of 22 in McNairy County.
Annie Plunk Fowler

Annie Plunk was born in Tennessee in 1829. Ancestry.com user "paulsan11" figured out Annie's maiden name from the death certificate of Mary L. Robison, her daughter with her second husband, Calloway Robinson. Mary Louise was buried in Haywood County's Holly Grove Baptist Church Cemetery, where many of my family members are buried.


The identity of Annie Plunk's parents is not confirmed, but there are many connections between the Fowler, Patterson and Plunk families in McNairy County. In the early census records, people were counted by age, sex and race, but not by name, so Paulsan11 searched all the Plunk families in McNairy County with unnamed females in the right age range.

John Plunk Sr. (1800 in Lincoln County, North Carolina to 1882 in McNairy County) and his wife Mary Elizabeth Lowrance Plunk (1797 in Lincoln County to 1887 in McNairy County) have an unnamed female in the 1830 census that could be Annie, while his brother Joseph A. Plunk (1809 in Lincoln County to 1895 in McNairy County) and his wife, Nancy "Milly" Haley (1813 in North Carolina to 1885 in McNairy County) also have a daughter in that age range.

While it could be either of them, it's more logical that Annie was a daughter of their brother George Washington Plunk (1799 in Lincoln County to before 1880 in McNairy County) and his wife Frances "Fannie" Jarman Plunk (1880 in North Carolina to after 1880 in McNairy County) who have two unnamed females who could be her.  They also have additional connections to Annie Plunk through two of their daughters: Nancy and Sallie.


George Washington Plunk and Frances "Fannie" Jarman Plunk

Remember, my third great-grandmother, Annie Plunk, married my third great-grandfather, Oliver Fowler, in 1848.

Nancy Plunk (1847 in McNairy County to 1925 in McNairy County) was the youngest daughter of George Washington and Fannie Plunk. In 1880, Nancy married Reddin J. Fowler (1831 in Tennessee to 1900 in McNairy County). At the time, Reddin was a widower of Charity Patterson (1829 in North Carolina to 1870 in McNairy County). Charity was sister of my third great-grandfather James Patterson.

Reddin Fowler, born 1831 in Tennessee, was likely a son of William Fowler, born in 1818 in Alabama, while Oliver Fowler was born in 1826, also in Alabama. I don't run across that many early Tennesseans from Alabama, so they were likely related, possibly brothers or first cousins. In the 1870 census, Reddin and Charity Fowler (his first wife) are living on the farm next to Lewis and Sarah Patterson Fowler.

Lewis, my second great-grandfather, was the son of Oliver Fowler. And on the farm next to them? Samuel and Lavinia Plunk. To make matters even more confusing, their one-year-old daughter was named Charity. Living a few farms away were the families of Martha Plunk, Alfred Plunk and George W. Plunk.

Sarah M. "Sallie" Plunk (1843 in McNairy County to after 1920 in Henderson County, Tennessee) was the next-to-youngest daughter of George W. and Fannie Plunk. In 1873, she married George W. Smith (1846 in Tennessee to after 1920 in in McNairy County). Although I'm unsure of the connection, George W. Smith grew up in the home of Redin Fowler, both when Redin was married to to Charity Patterson and then when he was married to Nancy Plunk. George shows up there as a 13-year-old in the 1860 census and again as a 23-year-old in the 1870 census. George and Sallie went on to have four children and are both buried in the Old Bethel Cemetery in Henderson, Tennessee.
The census of 1850 shows Oliver living in District 8, McNairy County, Tennessee with his 21 year-old wife, one-year old son, Lewis, and new-born daughter, Mary Jane.
Oliver died in 1858 at the age of 32 when Lewis was 10 and Mary Jane was 8.
Although Lewis' father died when Lewis was a young boy, his family was about to grow substantially. The same year his father died, his 29-year-old mother married Frances Calloway Robison in McNairy County. Calloway was a widower of Mary Louisa Malone (1823-1855).
Francis was 15 years older than Annie and likely had the following children: Josiah "Jenmal/Jenial" (1842-1918), Bluford Brownlow/Broughton, (1846-1880), Franklin Gracie (1848-1926), Theodore Columbus (1849-1927), Marion J. (1851-1932), Isaiah H. (1852-1931) and John V. Wright (1854-1894).
If you look at the census of 1860, Annie and Calloway have a full house in McNairy County, Tennessee. Frances' children alone would create a lot of work: Jenial was 18, Bluford was 14, Franklin was 12, Theodore was 11, Marion was 9, Isaiah was 7 and John V. W. was 6. Anna's children from her first marriage, Lewis and Mary Jane were 12 and 10. Frances and Anna had also added Elisha who was born in 1959.
Note that many places online confuse Francis Robison who fought in the Civil War as a private in the 5th Regiment, Tennessee Infantry, Company 2F with the Francis C. Robinson who fought as a private in the 52nd Regiment, North Carolina Infantry, Company G. Frances C. Robinson was born in Lincoln County, North Carolina in 1850 and married Mead A. Coleman on Aug. 17,1933. He died April 23, 1887 in Kingston, Tennessee. You can check out Mead Robinson's Civil War Confederate Pension Application here.
Annie and Calloway continued adding to the growing family with the birth of Penah S. in 1860 and Mary L. in 1863.
Also living in the house by the census of 1870 was 19-year-old Lura Mary Fowler, possibly a wife of one of Frances' sons.
By 1880, Calloway and Annie had 2 daughters still at home: Penah who was 20, and Mary L. who was 17. Joining the family at some point were 2 grandsons: Larkin Calloway age 13 and William S. age 11, sons of Calloway's son Jennial L. who died in 1870.
Calloway died in June of 1880 when he was 70 and Annie was 55.
Annie Plunk Fowler Robison's date of death and the location of where she and Calloway were buried is unknown.
Here is an interesting article from July 18, 1894 about some of those buried in Moore's Schoolhouse Cemetery in McNairy County, Tennessee.
The children of Oliver and Annie Plunk Fowler were:
Last
First
Born
Location Born
Died
Location Died
Spouse
Fowler
Mary Jane
1850
Fowler
Louis M.
14 July 1848
McNairy Co., TN
10 Aug 1938
Haywood Co., TN
Sarah Elizabeth Patterson
b. 29 Nov 1851
m. 27 Mar 1868
d. 25 Jan 1920
Lewis Fowler
My 2nd Great-grandfather, 1848-1938
Louis M. Fowler was born July 14, 1848 in McNairy County, Tennessee. His father died when he was just 10 years old.
His mother married Frances Calloway Robison who had many children from his first marriage. They farmed in McNairy Country for their entire lives and raised a large family.
In 1868 at the age of 19 Louis married Sarah E. Patterson (Nov. 29, 1851-Jan. 25, 1920) who was 16 at the time.
The Patterson Family

Sarah Patterson was the daughter of James Patterson (1803 in Wake, North Carolina to 1855 in McNairy, Tennessee) and his wife Nancy Holcomb Patterson (1817 in North Carolina to 1880 in McNairy County, Tennessee). They were married on Oct. 10, 1826 in Surry County, North Carolina.

James' parents were Wilson Patterson Sr. (born 1781 in North Carolina) and Charity Walker Patterson (born 1786 in North Carolina).

Wilson Patterson Sr. served in the North Carolina militia during the War of 1812. He was a Private in the infantry assigned to the 2nd Company, 6th Infantry Regiment, 2nd Brigade of the North Carolina Militia from Guilford County. He was mustered in to service on November 28, 1814. Initially called to Hillsborough for organization and training, his unit marched to Norfolk, Virginia and was conscripted into service.

Wilson's parents were Young Patterson (born in 1753 in North Carolina to 1822 in Guliford County, North Carolina) and Elizabeth whose last name is unknown.

Young's parents were Smith Patterson (born August 1720 in Bristol Parish, Virginia to unknown in Granville, North Carolina) and Sarah Turner.

Smith's parents were John Patterson (born 1690 in Prince George, Virginia to 1754 in North Carolina) and Jane Smith (born 1700 in Westmoreland, Virginia to March 1724 in Middlesex, Virginia).

You can find a bit more about the Patterson family in this blog entry or on the Patterson family page.
In the census of 1880, Louis Fowler was 32 and living with his wife who was 26 and their five children in District 14 of McNairy County.
At some point during the next decade, they moved to the north part of District Four in Haywood County and settled in the area where the next three generations would live, and where many of their descendants still live today.
In the 1900 census, Lewis was 51 and living with his wife, Sarah, who was 48. They had been married 32 years and had six children living at home. Their oldest daughter Mollie was 23 and her occupation was "dressmaker." Their next-to-youngest daughter was Ruby (my great-grandmother) who was 12.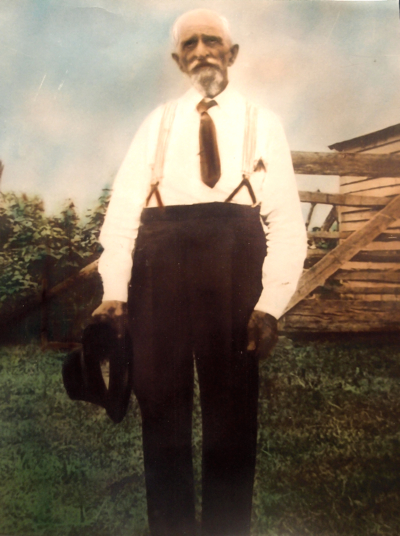 Photo: William L. Fowler Jr.
This photo of Lewis Fowler was taken around
1933 at his "homeplace" in Haywood County, Tennessee
By 1910 they had moved to District Five where they were living on Poplar Corner Road. Lewis was 62, Sarah was 59 and only 17-year-old Daisy still lived at home.
They lived next door to their 22-year-old daughter Ruby and her husband James L. "Jim" Lovelace. Next door to Ruby and Jim was the home of Lynn B. and Anna L. Lovelace. Lynn was Jim's great uncle.
Today, my aunt and uncle, Bill and Sara Lovelace, live in that same house.
My mother, Shirley Lovelace Williams, remembers Ann L. Lovelace as being a small woman they called "Aint Anna" and that in the 1940s Lynn and Anna had two rows of dark green boxwood shrubs leading up to the front door of their old wooden house.
Anna and Lynn had three sons: Russell B., Walter Lee and Vernan C.
Walter Lee married Ruby's sister Daisy.
Sarah Patterson Fowler died Jan. 25, 1920 and 68-year-old Louis began living with his daughter Ruby's family. In addition to Louis, Jim, Ruby and their six children, two other Fowlers were also living in the home: Jesse who was 13 and Leslie who was 11.
They were sons of Ruby's brother, Samuel Dalton Fowler and his wife, Clyde Lorene Mann.
They also had a daughter named Little. Dalton Fowler died Oct. 2, 1913 leaving his wife with three young children to raise.
Clyde married again by 1917 and had three sons with her second husband, Ben Hilburn.
You can read more about them on this blog entry.

Letter: Jenny West
Lewis Fowler wrote this letter to his son on Christmas Eve, 1920.
Check it out in
this blog entry
.
In the census of 1930, Lewis was living with his daughter Mollie and her husband.
Lewis' grandson, William L. Fowler, Jr., fondly recalls from childhood his memories of Mollie Fowler's cakes and pies as well as Lewis Fowler's nervousness about cars. "There were times when Grandpa Fowler rode in the car with my Dad and I. He always kept both hands on the door as if he was ready to jump out if anything went wrong." he writes. "I'm not sure if he ever had much faith in automobiles."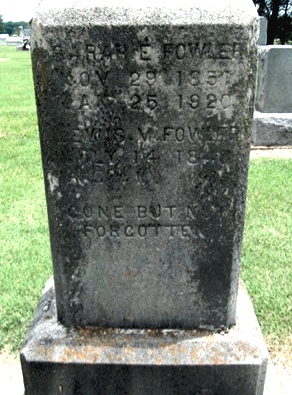 On Aug. 10, 1938 Louis Fowler died at the age of 90. He was buried next to his wife at Zion Baptist Church Cemetery in Haywood County, Tennessee.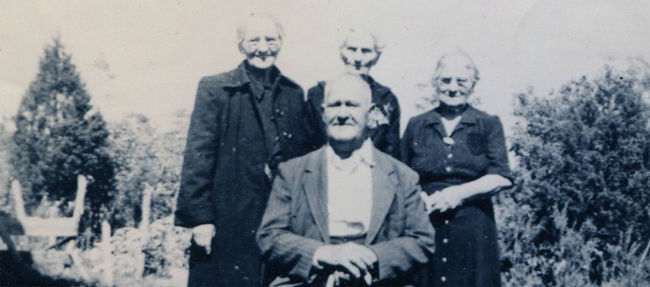 Photo: Jenny West
Fowler Siblings l to r: Daisy Fowler Lovelace, Molly Fowler
and Ruby Fowler Lovelace with Oliver Fowler in the front
The Children of Louis and Sarah E. Patterson Fowler were:
Last
First
Born
Location Born
Died
Location Died
Spouse
Fowler
Mary C.
1871
Haywood Co., Tenn.
Fowler
Lula M.
1873
Haywood Co., Tenn.
1960
Lincoln, Tenn.
G. W. Parker
Children of G.W. and Lula Fowler Parker were Herbert, Jasper, Lucy, Jerline, Mattie, Blanche, Vary Elmore and John
Fowler
Oliver Wilson
12 Jan 1875
Haywood Co., Tenn.
9 June 1951
St. Francis, Ark.
Lucy Browder
b. 1882
d. 1917Lillie Dell Hudson
b. 15 Aug 1886
d. Feb 1971
Wilson Fowler was born in 1875 in McNairy County, Tenn. He first married Lucy Browder and they had four children: Vassie, Rose Lee, Willie and Otis. After Lucy died, he married Lillie Dell Hudson who had children of her own including Leona and Ira. Together, Wilson and Lilly had Daulton, Odell and Authur. Between 1910 and 1920 Wilson moved to St. Francis, Arkansas.

Wilson died June, 9, 1951 and was buried in the Harris Chapel Cemetery in Wynne, Arkansas.

You can read more about Wilson Fowler and his children on my blog entry about the Fowler family.

Photo: Jenny West

top: Rose Lee Fowler and Willie Fowler, Wilson Fowler
bottom: Lilly, Odell and Wilson Fowler, Vassie Fowler

Fowler
Mollie F.
Sept 1876
Haywood Co., TN
S.W. Parker

John Henry Fowler
b. 1871
m. 1892
d. 1945

The possible children of Mollie and John Henry Fowler were: Early May, William Richard, James H., Jim, Leander Doyle, Burt, Emma Lou, Jessee, Andrew Wayne, Addie Bell and Floyd.
Fowler
Thomas Monroe
26 May 1880
Haywood Co., TN
19 Nov 1937
McNairy County, TN
Mary

The children of Thomas and Mary Fowler were: Mary, Elmer, Vera and Blanche.

Fowler
Samuel Dalton
16 Jan 1882
Haywood Co., TN
2 Oct 1913
Haywood Co., TN
Clyde Lorene Mann
b. 17 Oct 1889
m. 25 Jun 1905

The children of Samuel Dalton and Clyde Fowler were: Jessie Thomas, William Leslie and Little.

After Dalton's death, Clyde married Ben Hilburn and had three more sons: Morris E., Benard E. and Elvis.

The headstone of Samuel Dalton Fowler in Zion Baptist Church Cemetery in Haywood Co, TN.

l to r: Little Fowler, William L. Fowler, Sr. and
Clyde Lorene Mann Fowler Hilburn in the early 1950s.

Fowler
Elender M.
1884
Haywood Co., TN
Fowler
Ruby
12 Aug 1887
McNairy Co., TN
29 Jan 1952
Haywood Co., TN
James Luther "Jim" Lovelace
b. 27 Sept 1885
m. 28 May 1905
d. 31 March 1968
Fowler
Daisy
June 1893
Haywood Co., TN
Dec 1976
Madison Co., TN
Walter Lovelace
b. 21 Oct 1890
d. Dec 1976
Daisy and Walter had five children, three who are apparently living as of 2010. Starley, Amelia and Walter Jr. The two who have died are Mildred Louise (1916–2001) and Anna Elizabeth (1927–1996).

Walter Lee was one of the sons of Lynn B. Lovelace while James Luther Lovelace was the son of Lynn's brother, Charles Buchanan Lovelace. More about the Lovelace Family
Ruby Fowler
My Great-grandmother, 1887-1952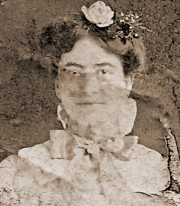 Photo: Jenny West
Ruby Fowler Lovelace around 1910
Ruby Fowler was born Aug. 12, 1887 in Chester County, Tennessee. She married Jim Lovelace on May 28, 1905 at Allens by Esq. Herring. They lived just east of the homeplace where Jim's parents, Charles and Nancy Jane Yelverton Lovelace and their large family lived.
In the 1910 census, Ruby's parents and family, the Fowlers were living next door on the other side in a home they built. By 1920, Ruby's mother Sarah had recently died, Louis was 68 and living in the house with his daughter Ruby's family along with two other Fowlers; Jissie who was 13 and Leslie who was 11.
Eventually, Louis Fowler would go to live with his daughter Mollie. The Lovelace family would continue to grow because, through the years, as the sons would marry, often they would initially bring their new wives to live in Jim and Ruby's home.
Ruby's grandchildren called her "Momma Ruby." Her youngest daughter, Marie, remembers Ruby as being very mild-mannered and never losing her temper or getting mad.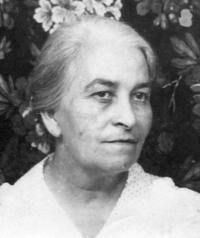 Photo: Jenny West
Ruby Fowler Lovelace
She was always very worried and afraid during storms which may be where my grandfather Guy Lovelace picked up his own anxiety during bad weather.
Church records show Jim and Ruby joined Zion Baptist Church on August 18, 1918 at a revival "preached by Dr. Woolridge with music led by Brother Thomas."
The Lovelace Family Reunion continues today. Here is a short clip from the reunion in 1990.
Their extended family was a big part of the lives, with Jim's parents, Charlie and Nancy Jane Lovelace, living on the farm next door. Marie remembers Ruby preparing homemade moon pies for the frequent gatherings the Lovelace family would have.
You can read more about the Lovelace Family Reunions in this blog entry.
In later years, grandson Bill Lovelace remembered Ruby as being very sensitive and crying often. He remembers "Grandaddy Jim" getting angry with her and her responding by bursting out in tears. My mother remembers her being very kind but also "nervous."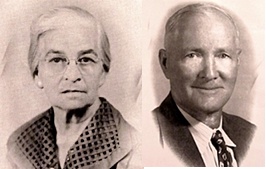 Ruby and Jim Lovelace
On 29 Jan 1952, when Ruby was 64, Jim called his daughter Marie to let her know that his wife was having problems with her heart so he had called Dr. Stewart. When Marie arrived at the house, she remembers Ruby was cooking pork tenderloin, fried potatoes and chocolate pies.
At 3:00, Kate Smith came on the radio and Ruby told Marie and her sister Blanch, who had also come, that she was going to go lay down. About an hour later, Marie went to let her know she was leaving and Ruby had passed away in her sleep.
My maternal grandparents, Guy and Virginia Lovelace and their family were living in the house across the field from Ruby and Jim. My mother remembers playing next to the road with her brother Bobby when someone at Ruby's house shouted for them to quickly get their father.
My mother's brother, Bill Lovelace, remembers that the next day the family was holding Ruby's wake in her house so his father went to see her. Bill waited in the truck in the driveway of the house for Guy to return. When he did, Bill remembers his father leaning his head on the steering wheel and crying.
It is the only time Bill remembers seeing his father cry.
After Ruby's death, Jim lived at home alone for awhile then he stayed with several of his children.
Finally, he went to live with his son and daughter-in-law, Hobert and Carolyn Lovelace until his death from cancer in 1968, 16 years after Ruby had passed away.
They are both buried in the Zion Baptist Church Cemetery in Haywood County.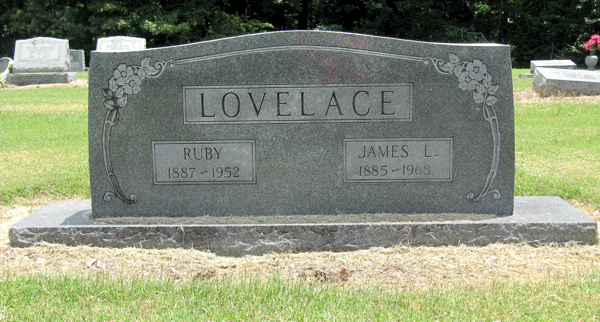 For more about Jim Luther and Ruby Fowler Lovelace, visit the Lovelace family page.
Do you have more facts, information or photos you would like shared here or do you see errors? Please let me know by posting below or sending me a message on Facebook.
Return Home