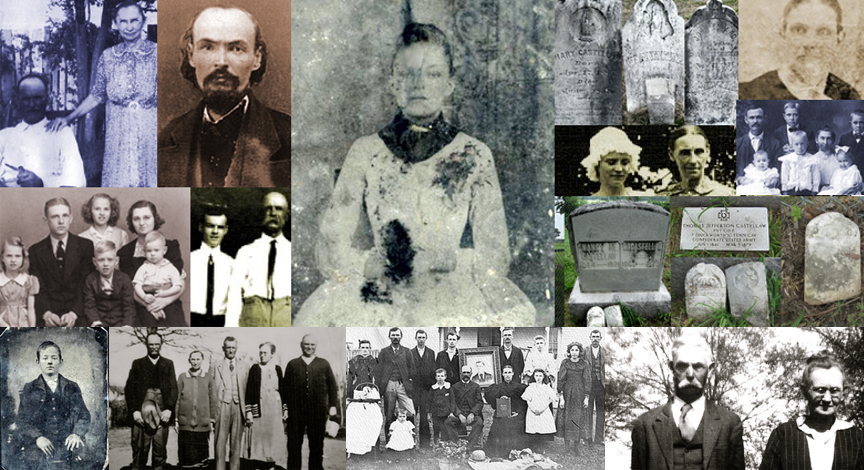 I traveled back to Tennessee last week for a reunion of the descendants of Thomas Jefferson Castellaw (1808-1878), and was reminded of the important role storytelling plays in how our family history is passed down through the generations.
I've long been fascinated by the story of Thomas Jefferson Castellaw. With his two wives, Mary Elisar Hardy (1809-1840) and Mary Elizabeth Cole (1809-1875), Thomas fathered six sons and one daughter. All of us at the reunion descended from those seven siblings. There were about 40 of us there and, while immediate family members certainly knew each other, many of us were meeting for the first time.
So we could better know who descended from which sibling, I prepared a little Castellaw family cheat sheet that may be helpful to those who also descend from our family lines.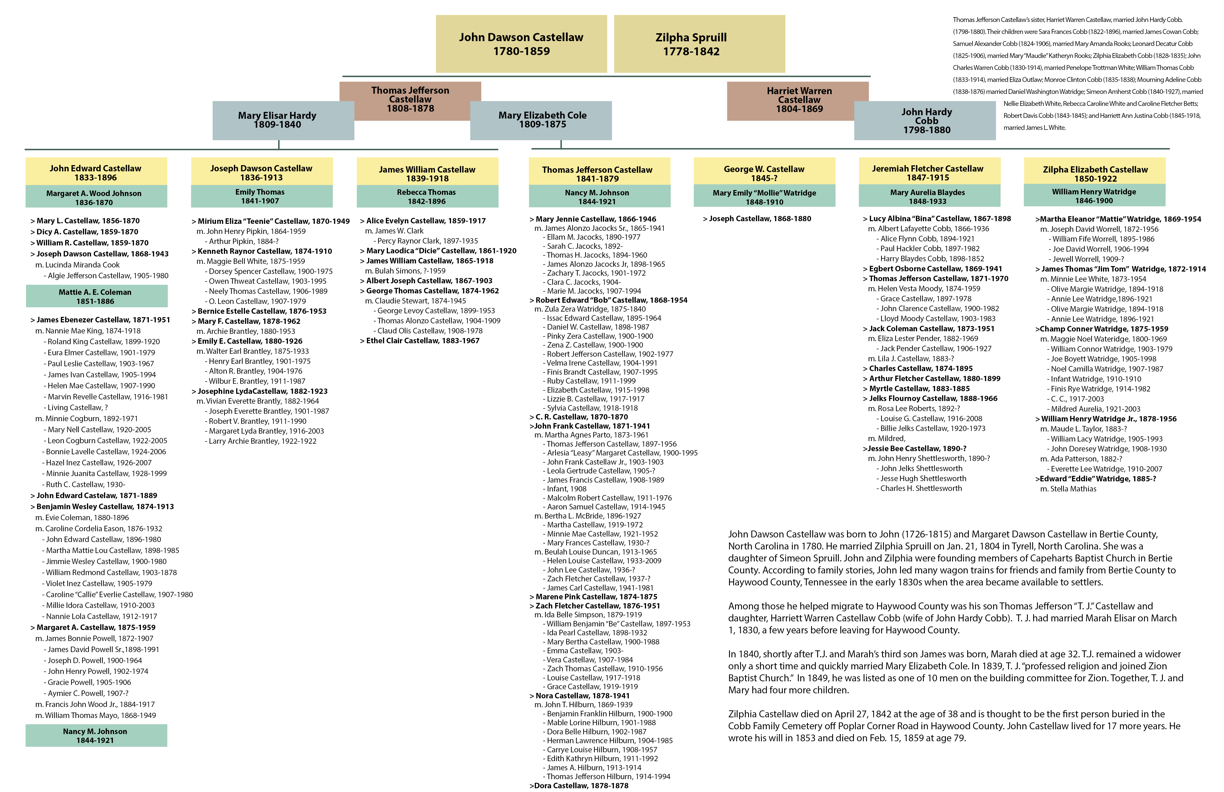 Download a high-resolution version
Thomas Jefferson Castellaw was one of the original settlers of Haywood County in the early 1830s. His father, John Dawson Castellaw, led many wagon trains from their home in Bertie County, North Carolina to Haywood County, Tennessee.
John's daughter Harriet W. Castellaw and her husband John Hardy Cobb also migrated to Haywood County, and both the Castellaw and Cobb families became very active in the new community.
It was fascinating to me that we were gathered together more than 180 years later to connect over our mutual ancestry.
It was even better since we could do it over some great southern cooking provided by the Olympic Steakhouse in Haywood County, Tennessee.
I left the reunion with some new photos and interesting stories of our Castellaw cousins from the past, while making friends with a lot of new Castellaw cousins from the present.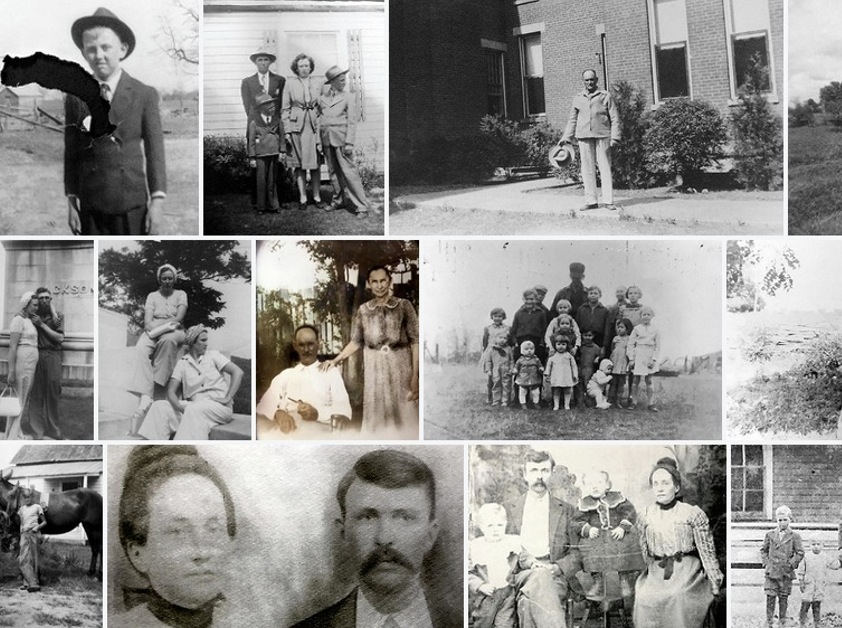 You can check out the photos of Castellaw cousins of the past in this gallery, and if you have photos you would like included, email them and I'll add them.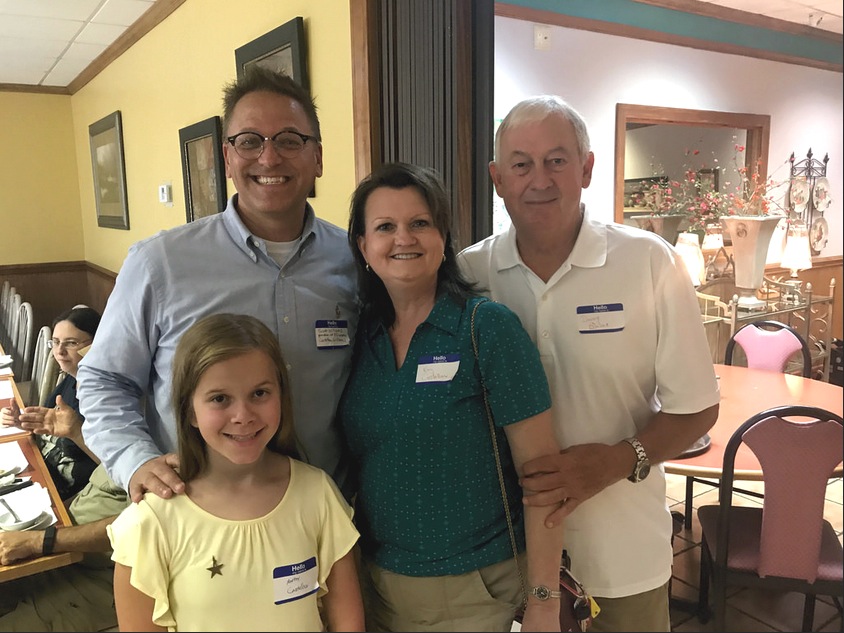 Me with a few of my newly-discovered Castellaw
cousins including Marbry, Kay and Danny. Kay helped plan the reunion.
You can check out some of my photos from the reunion here.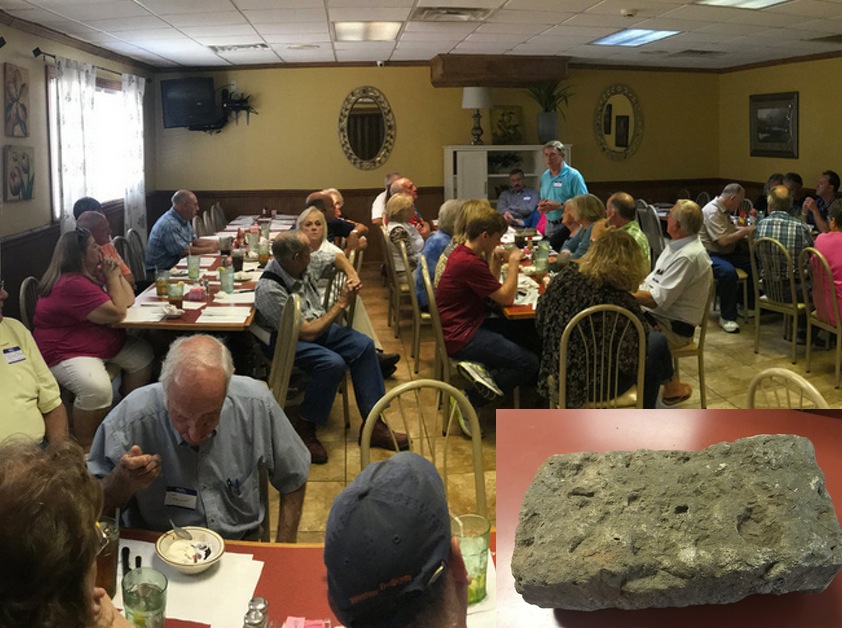 Ed Castellaw has been researching the Castellaw genealogy for decades and shared some great information he's gathered through the years. He gave us some details of his visit to Bertie County, North Carolina and his experience attending the national Castellaw family reunion in 1977.
Ed also brought a brick he pulled from the ground that had been part of the Castellaw plantation.
Ed's daughter and son-in-law, Brent and Christy Perkins, discovered a bit of Castellaw history when they visited Scotland. Brent shared some details about their experience at Castelaw Hill Fort and even prepared this poster for us.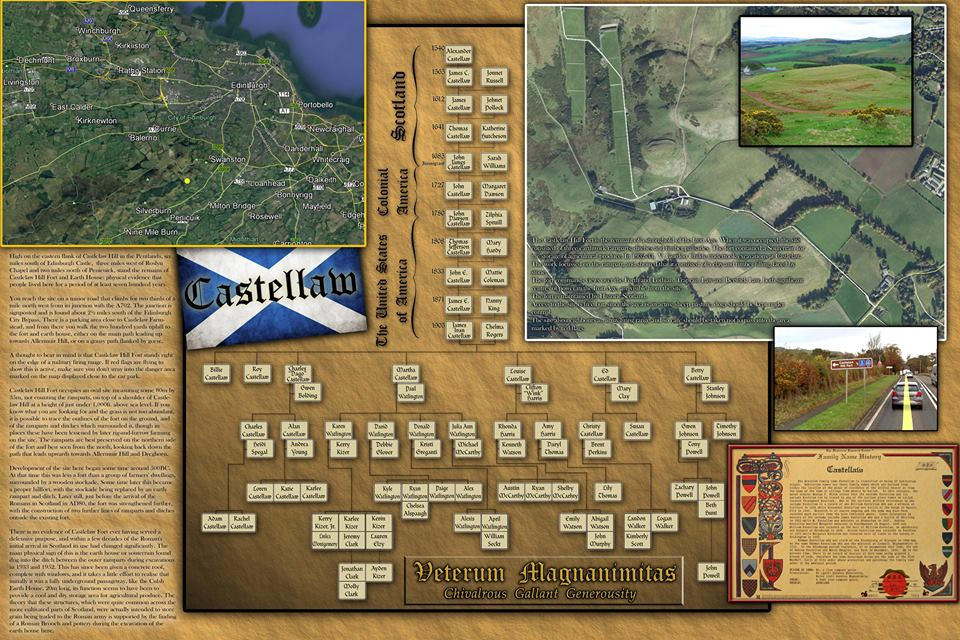 Jonathan Castellaw and I had just discussed the Confederate service of some of the Castellaw brothers who were listed as deserters, so it was really interesting when Glad Castellaw shared a few stories that have been passed down to him about that same topic.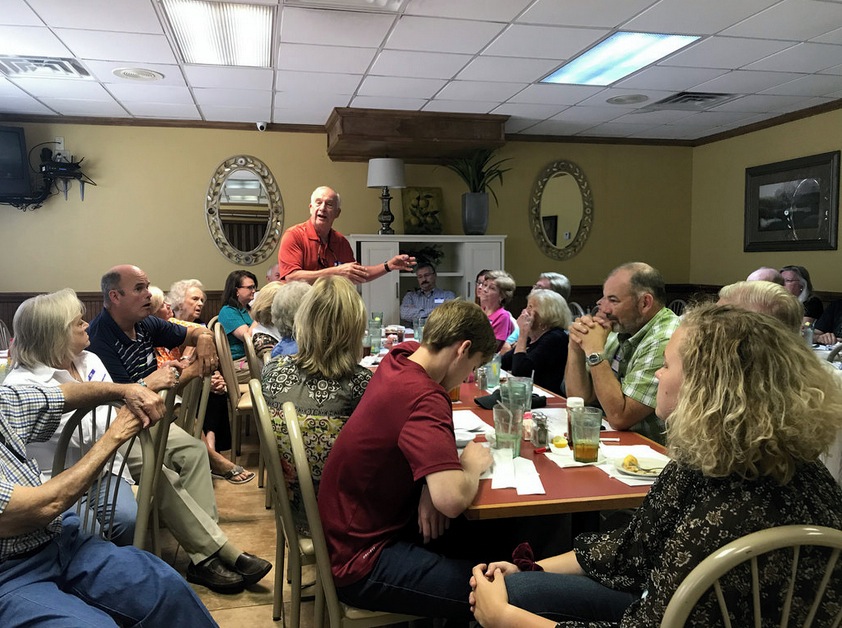 (And Glad knows a thing or two about military service. During his 36-year career, he served with the UN during the Siege of Sarajevo, commanded the American force in the multi-national security and stability operation in East Timor, and was the chief of staff for the U.S. Central Command at the height of the wars in Iraq and Afghanistan. Glad also commanded Marine Medium Helicopter Squadron 264 (REINFORCED), Marine Aviation Weapons and Tactics Squadron 1, and the 2d Marine Aircraft Wing. His last tours were in the Pentagon as head of Marine Aviation and then overseeing the Marine Corps budget. More about Glad)
Glad shared a family story about one of the Castellaw brothers, James William Castellaw, and the Civil War. James deserted and was back in Haywood County when Nathan Bedford Forest came through the area and commanded his troops to pick up any deserters. John was picked up, court marshaled and sentenced to death.
Fortunately for him, around this same time, Joseph E. Johnson was trying to keep William T. Sherman and the Yankee soldiers out of Atlanta. Castellaw and 38 others were given the opportunity to have their death sentences commuted if they volunteered to fight. Of course, 39 hands went up. The story that has been passed down to Glad is that John Castellaw soon found himself on the front lines of the Battle of Harrisburg near Tupelo, Mississippi. Glad was told, "Castellaw was in the front of every charge in Harrisburg, but that night, after the battle was over, he had his gun, he had his horse…back to Haywood County he went!"
Otha Castellaw shared a story about receiving a set of chairs that Jeremiah Fletcher Castellaw and his wife, Mary A. Blaydes Castellaw, brought back with them when they returned to Haywood County from Texas in the early 1900s.
That's a really interesting branch of the family tree. If you're curious, you can read more about them here.
Martha Castellaw shared some details with me about her life in a story she had written about growing up in Crockett County, Tennessee. She is a granddaughter of James Ebenzer Castellaw, one of the sons of John Edward Castellaw. Martha later moved to Washington, D.C. and worked for the CIA.
Sandra Presley Smith and Susan Latham Griffin, who are from the family line of Robert Edward "Bob" Castellaw, (same as me) brought some family photos to share.
While the internet certainly provides an opportunity for those of us interested in genealogy to confirm names and dates, there's something really special about a group of people with a shared history exchanging family stories in person.
Its time for Kay Castellaw to plan the next Castellaw reunion…in Scotland!
You can read more about the Castellaw family on the Castellaw page of HaywoodCountyLine.com or check out other blogs entries on the Castellaw family I've posted.
Castellaw Family Reunion Recap