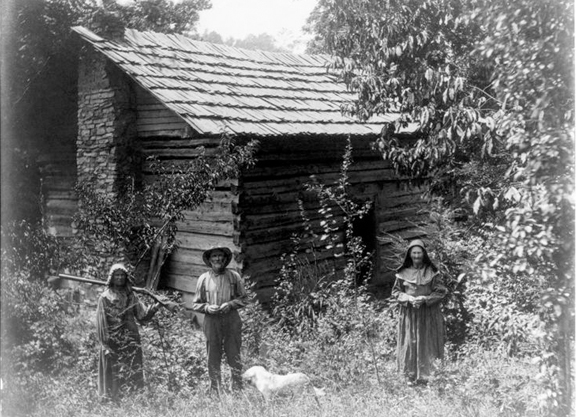 Photo credit: David Foster
Example of a Tennessee cabin around 1910.
I want to locate the specific site where Richard Nixon, the first non-Native American settler in Haywood County, Tennessee, built his cabin in 1822.
In the words of Joseph S. Williams in "Old Times in West Tennessee," published in 1873:
"Col. Richard Nixon blazed out his course and cut his own road from the settled vicinity of Jackson, to where he pitched his tent, on the creek which took his name, three miles east of Brownsville. The red men of the woods were encamped on the same creek—the noble Chickasaws—with whom he cultivated kindly relations, and for many weeks shared with them the hospitalities of their camp."
Richard Nixon was born January 26, 1769 in Hanover County, North Carolina to Thomas Williams (1746-1782) and Christian Williams Nixon (1746-1831). Richard was named after his paternal grandfather, Richard Nixon (1705-1746), who immigrated to Craven County, North Carolina from Barningham, Yorkshire, England.
Thomas Nixon was a captain in the 8th North Carolina Regiment during the Revolutionary War. He enlisted on Nov. 28, 1776, and resigned on Sept. 20, 1777. Thomas died in Hanover County on July 2, 1782 at age 36 just five years after his service in the war ended. Richard was only 13 years old when his father died. His mother, Christian, then married James Spicer and later Robert Nixon (Thanks to Melody Nixon Iturralde for some of the information on Richard Nixon's genealogy).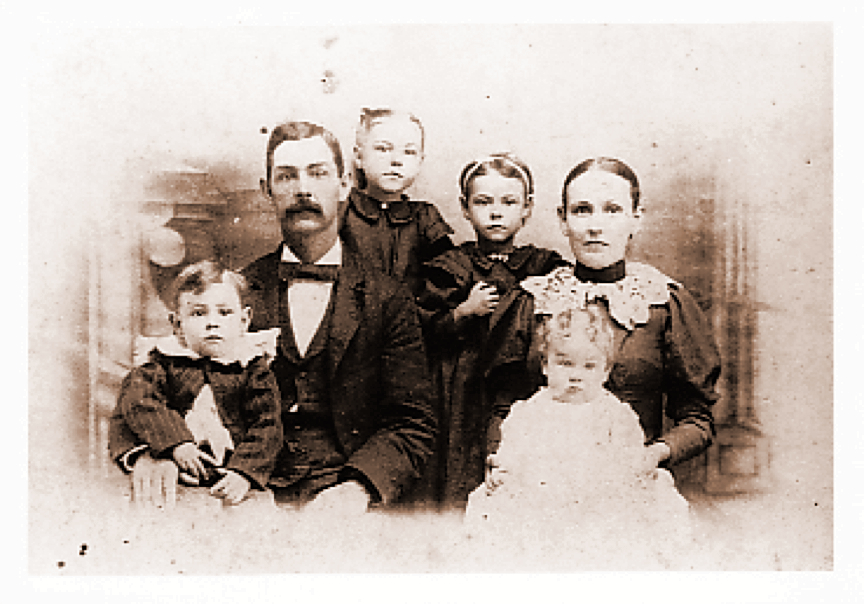 Photo: cwjacocks on Ancestry.com
John Hill Jacock's son and daughter-in-law, James Alonzo Jacocks
and Mary Jennie Castellaw Jacocks with children around 1894. Mary Jennie
was a sister of my great-grandfather, Bob Castellaw.
On May 24, 1793, Richard Nixon married Ann Worth Jacocks (1775-1810) in nearby Bertie County, North Carolina. The only daughter of Jonathan Jacocks (1718-1787) and Elizabeth Hill Jacocks (1719-1785), she was from a wealthy and influential planter family with a substantial amount of property and social connections. Correspondence between members of the family living in Bertie County, North Carolina and Haywood County, Tennessee can be found in the collection of Jonathan Jacocks Papers in the Southern Historical Collection at UNC. I included some of John Hill Jacocks' (1831-1902) letters in blog entries here and here a few years ago.
Richard Nixon served in North Carolina's House of Commons in 1801 and on the jury of the Superior Court of North Carolina in 1808. During the War of 1812, he served as a Lieutenant Colonel in the Third Regiment of New Hanover that came to be referred to as Nixon's North Carolina Regiment.
There is much conflicting information regarding the children of Richard Nixon and his two wives. His children with his first wife, Ann, were possibly:
Thomas Graves Nixon Sr. (1796-1834)
Richard Williams Nixon (1799-1871)
Jonathon J. Nixon (1802-1835)
John Hill Nixon (1806-?)
Ann Eliza Nixon (?-?)
Richard and Ann moved their family to Bertie County after Ann's father died and they inherited one of his plantations there. According to one source, when moving to Bertie County, Nixon placed his son in the military academy at West Point.
Ann Nixon died on March 18, 1810 in Bertie County at age 35, leaving her husband with a number of young children at home.
Richard Nixon then married a widow, Mary Whitmell Pugh (1779-), who had two children, Mary Elizabeth Jordan (1809-1873) and Harriett Jordan from her previous marriage to William Jordan.
Together, Richard and Mary possibly had:
William Nixon (1819- )
Jane Nixon (1821-)
Christian Nixon (1821-)
James W. Nixon (1823- )
Thomas Whitney Pugh Nixon (1826-1826)
The promise of cheap land to the west had inspired a generation of settlers to migrate into the Western Territory of North Carolina. Risking sickness, frequent attacks by Native Americans and an endless number of hardships from living in an unsettled territory, they created farms and small villages in the area that later because Middle and Eastern Tennessee.
In 1789, North Carolina, weary of dealing with the expense and frustrations presented by all these new settlers, ceded the territory to the new state of Tennessee creating a booming market for new unsettled land. However, North Carolina held on to the right to use some of this new territory to fulfill its obligation to give land to North Carolina Revolutionary War soldiers as payment for their service to the United States.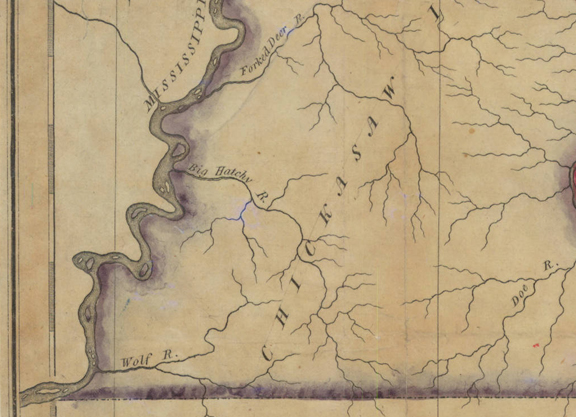 Photo: Tennessee State Library and Archives
Map of West Tennessee in 1918
In 1818, the United States forced the Chickasaws to "sell" the area of their hunting grounds that included West Tennessee for $300,000 with an eye on control of the Mississippi River and her tributaries. Rivers like the Forked Deer, the Big Hatchie and the Wolf would provide much needed transportation for cash crops like tobacco and cotton.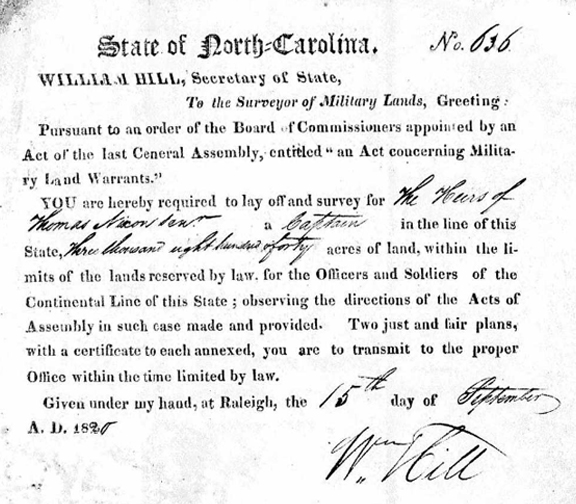 Richard Nixon's 1821 Tennessee Land Grant from
North Carolina for his father's service in the Revolutionary War.
As payment for his father's service in the Revolutionary War, Nixon was granted 3,600 acres in the "Western District" in 1821. He chose to build a cabin on a creek off the Forked Deer River making him the first official settler in the area of Haywood County, Tennessee. He then quickly built a store and landing on the Hatchie River to capitalize on the traffic of settlers and farmers moving into the area and then needing to get crops to cities like nearby Memphis.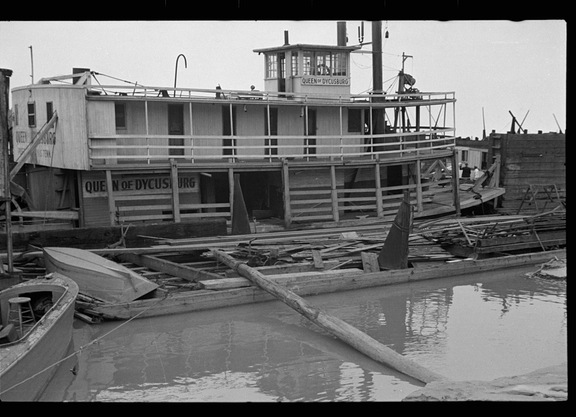 Photo: Ben Shahn, Library of Congress, 1935
The Queen of Dycusburg is an example of a riverboat similar to the ones that could be seen
traveling on the rivers of West Tennessee in the region's early years.
Richard Nixon was responsible for a number of family members also settling in the area, including his nephew, Jonathan Thomas Jacocks, mentioned above. A few years ago, I located the cemetery of some of his descendants and uploaded the details here so I know they settled in the area of Poplar Corner Road and Marbury Road. I think it can be assumed that they must have settled close to Richard Nixon and his family.
Nixon's son Robert (1799-1881) worked in his father's store on the Hatchie River for a while. After moving to the hometown of his wife, S. C. Whitfield, in Montgomery County, Tennessee, he had a conversion experience and later became a minister. Richard's daughter Ann Eliza also migrated to Haywood County along with her husband William Roscoe Leigh. Their son was William R. Leigh (1848-1904).
Also joining his father in Haywood County was Thomas Graves Nixon Sr. and his wife Celia Freeman Nixon. Their son, Richard Jacob Nixon was born October 11, 1822 and is thought to have been the first child of new settlers born in the area. After Thomas Nixon was murdered in Carroll County, Mississippi on Nov. 13, 1834, his widow married Reverend John D. Neal and moved to Madison County, Texas.
On November 3, 1823, Haywood County was created by an act of the General Assemble of the State of Tennessee and was named "Haywood" in honor of Judge John Haywood.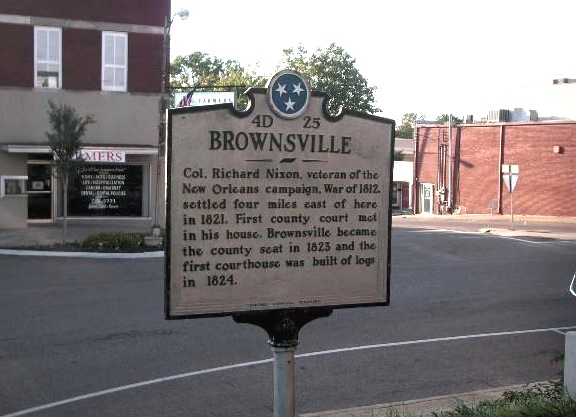 Historic marker noting Richard Nixon located on Brownsville's court square.
On March 8, 1824, a group of settlers gathered at Richard Nixon's cabin on what was by then named Nixon Creek to hold the first session of the Haywood County Court. That day, they elected Richard Nixon as chairman, Britain H. Sanders as clerk, John G. Caruthers as sheriff and Jonathan Thomas Jacocks as ranger. The leaders of the new community continued to meet at Nixon's home until 1825 when the first log courthouse was completed on the town square of Brownsville.
Nixon remained involved in the planning of the new community, even acting as commissioner as they laid out the parameters of the new town.
By 1826 over 200 families called the area home and hundreds more were arriving every week. The promise of fertile soil on cheap land created an irresistible opportunity. Settlers, including thousands of slaves, arrived by boat, horseback, in wagons and on foot. Between 1815 and 1850, more than one-third of North Carolina's population emigrated west.
Soldier, politician, planter and another Haywood County settler, Captain Herndon Haralson, wrote about Brownsville and Richard Nixon's home in a letter dated April 12, 1825:
Since I wrote you last, the lots in the town of Brownsville, Haywood County have been sold. They sold high; was purchased chiefly by those at a distance: some by lawyers, some by doctors and the most valuable on the public square by merchants. The landing of Colonel Nixons, which you see advertised in the Jackson Gazette on Flowers tract of land, is opposite the town and not more than three and a half or four miles distant with a fine road. The landing is a beautiful site; this together with the prospects of the navigation for steamboats to that place, seems to please every body that have seen it, and this with the advantage of their being much fertile lands in the neighborhoods…
That same Captain Haralson led a toast Richard Nixon on July 4, 1930 during an Independence Day celebration. He said, "To Colonel Richard Nixon, President of the Day, first settler and most prominent citizen…"
Richard Nixon died on July 25, 1831 at age 62. According to records, there is a Nixon family cemetery located "three miles east of Brownsville," which must be close to the location of his home.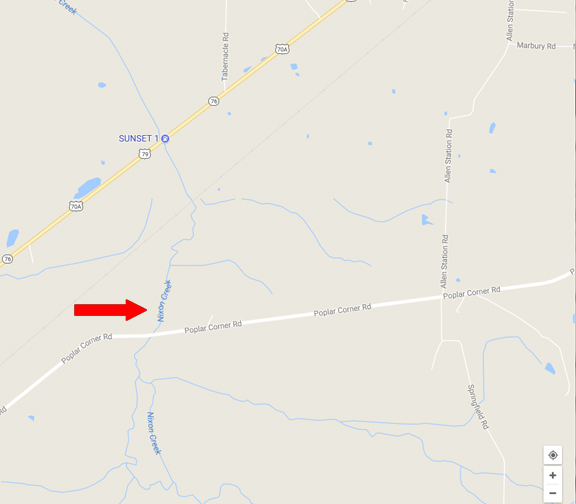 Nixon Creek can be seen on maps of Haywood County today and it intersects Poplar Corner Road about four miles from Brownsville.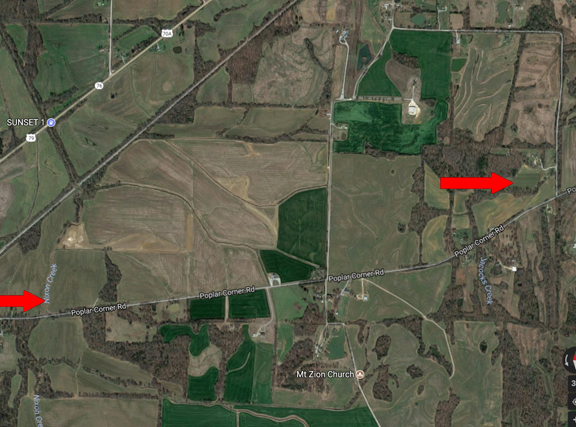 The intersection of Poplar Corner Road and Nixon Creek is also very close to the Jacocks Cemetery, pictured here in the upper right.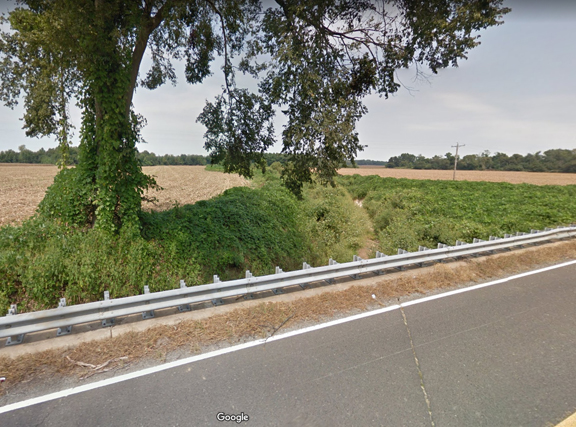 Today, Nixon Creek is more of a puddle, and I've driven past it on Poplar Corner Road thousands of times and never even noticed it.
If anyone has any more information about Richard Nixon, his family or where his cabin was located, please let me know by posting below or you can message me on Facebook.
You can read more about my Haywood County ancestors at HaywoodCountyLine.com or read more blogs posts on my blog page.
Sources:
Enjoy this blog entry? Please like and share below.
Where was the Home of Richard Nixon, the First Haywood County Settler?