My third great-grandfather, Oliver Fowler, married my third great-grandmother, Annie, in 1848. I've not known much about her, but after a bit of research this weekend, I got to know her a lot better.

Annie Plunk was born in Tennessee in 1829. Ancestry.com user "paulsan11" figured out Annie's maiden name from the death certificate of Mary L. Robison, her daughter with her second husband, Calloway Robison. Mary Louise was buried in Haywood County's Holly Grove Baptist Church Cemetery, where many of my family members are buried.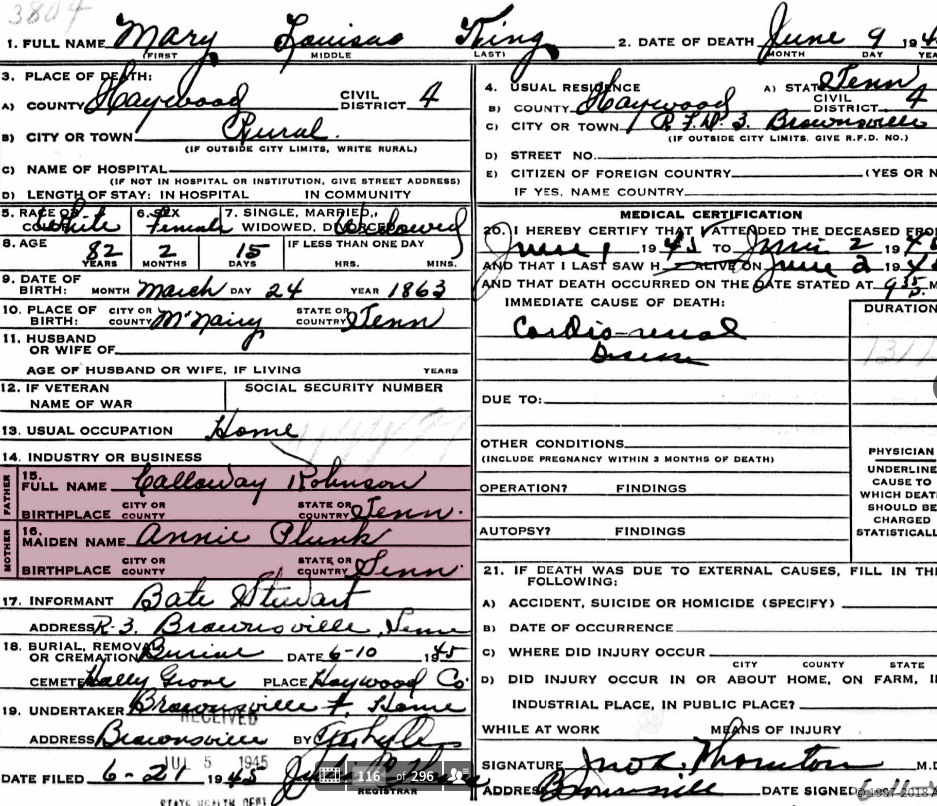 The identity of Annie Plunk's parents is not confirmed, but there are many connections between the Fowler, Patterson and Plunk families in McNairy County during that time. In the early census, people were counted by age, sex and race, but not by name, so Paulsan11 searched all the Plunk families in McNairy County with females in the right age range.
John Plunk Sr. (1800 in Lincoln County, North Carolina to 1882 in McNairy County) and his wife Mary Elizabeth Lowrance Plunk (1797 in Lincoln County to 1887 in McNairy County) had an unnamed female in the 1830 census that could be Annie, while his brother Joseph A. Plunk (1809 in Lincoln County to 1895 in McNairy County) and his wife Nancy "Milly" Haley (1813 in North Carolina to 1885 in McNairy County) also had a daughter in that age range.
While it could be either of them, it's very possible that Annie was a daughter of their brother, George Washington Plunk (1799 in Lincoln County to before 1880 in McNairy County). He and his wife Frances "Fannie" Jarman Plunk (1880 in North Carolina to after 1880 in McNairy County) had two unnamed females who could be Annie. 
They also have additional connections to Annie Plunk through two of their daughters: Nancy and Sallie.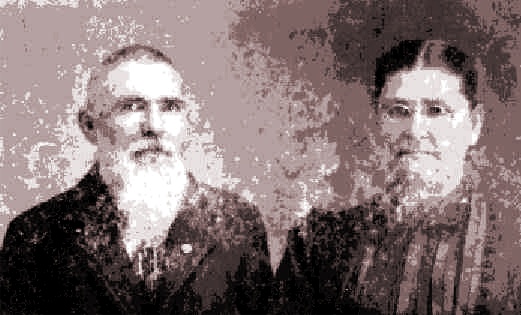 George Washington Plunk and Frances "Fannie" Jarman Plunk
Nancy Plunk
First, lets look at Nancy. Nancy Plunk (1847 in McNairy County to 1925 in McNairy County) was the youngest daughter of George Washington and Fannie Plunk. In 1880, Nancy married Reddin J. Fowler (1831 in Tennessee to 1900 in McNairy County). At the time, Reddin was a widower of Charity Patterson (1829 in North Carolina to 1870 in McNairy County). Charity was sister of my third great-grandfather James Patterson.
Reddin Fowler, born 1831 in Tennessee, was likely a son of William Fowler, born in 1818 in Alabama, while Oliver Fowler was born in 1826, also in Alabama. I don't run across that many early Tennesseans from Alabama, so Reddin and Oliver were likely related, possibly brothers or first cousins. In the 1870 census, Reddin and Charity Fowler (his first wife) were living on the farm next to Lewis and Sarah Patterson Fowler (Oliver's son and James Patterson's daughter).
Lewis, my second great-grandfather, was the son of Oliver Fowler. And on the farm next to them? Samuel and Lavinia Plunk. To make matters even more confusing, their one-year-old daughter was named Charity. It seems everyone in all those families named a daughter Charity. Living a few farms away were the families of Martha Plunk, Alfred Plunk and George W. Plunk.
Sallie Plunk
Now, let's turn to Nancy's sister Sallie. Sarah M. "Sallie" Plunk (1843 in McNairy County to after 1920 in Henderson County, Tennessee) was the next-to-youngest daughter of George Washington and Fannie Plunk. In 1873, she married George W. Smith (1846 in Tennessee to after 1920 in in McNairy County). Although I'm unsure of the family connection, George W. Smith grew up in the home of Redin Fowler, both when Redin was married to to Charity Patterson and then when he was married to Nancy Plunk. George shows up there as a 13-year-old in the 1860 census and again as a 23-year-old in the 1870 census. George and Sallie went on to have four children and are both buried in the Old Bethel Cemetery in Henderson, Tennessee.
Annie Plunk Fowler
When Oliver Fowler died in 1858 at the age of 32, he left Annie a widow with two young children, Lewis and Mary Jane. Annie quickly married Calloway Robison. He came to the marriage with seven children from his first marriage to Charity Fowler. Together, they had five more children.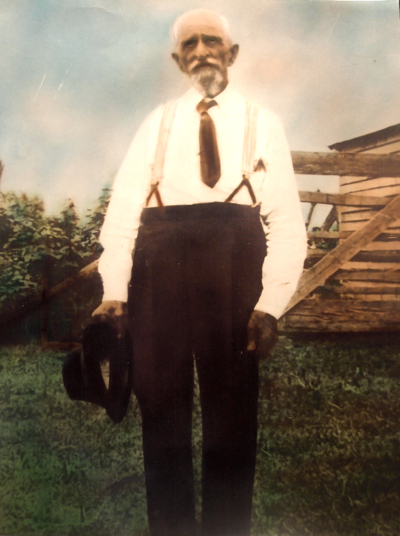 Photo: William L. Fowler Jr.
Lewis Fowler in 1933 on his homeplace in Haywood County, Tennessee
Annie's oldest son, Lewis, married Sarah Patterson and gave birth to my great-grandmother, Ruby Fowler in 1887. Ruby married James Luther Lovelace in 1905. They had eight children, one of them being my maternal grandfather, Guy Lovelace, born in 1916.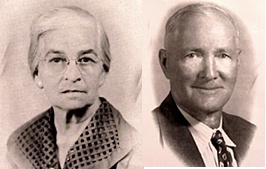 Ruby Fowler Lovelace and Jim Lovelace
You can find out more about my Fowler and Patterson lines along with my other specific family lines at HaywoodCountyLine.com, or read more blogs posts about the history of West Tennessee on my blog page.