This is a work in progress. Much of my direct line is documented, but some may not be. If there is a question, I usually include words like "seems likely" or "possibly" in hopes that it may help someone else or eventually get me closer to documentation. Also, I do make errors when transferring info to my files or to the site. If you find errors that you can correct, please e-mail me and I'll gladly make the changes or if you have more information on anyone mentioned here and can share it, I would be really appreciative. My direct descendants are in bold type.
Note: The families of Joseph Cobb and Ambrose Cobb have been professionally researched and thoroughly documented in "The Cobbs of Tennessee," Cully Alton Cobb, Ruralist Press, Atlanta, 1968; and "The Cobbs of the Tidewater," Bruce Montgomery Edwards, Montgomery Publishing Company, Knoxville, 1976. My particular Cobb ancestry is well researched and recorded in "Nicholas Cobb Descendants: Neighbors and Relatives, 1613-1983," Joe E. Cobb, 1984.
Richard Cobb Jr.
My 10th Great-grandfather, around 1550-around 1597

Richard Cobb Jr. was born in Aberdeen, Scotland. His parents were possibly Richard Cobb Sr. (1540-1582) and Elizabeth Cobb (1550-1570) of Reculver, Kent England.
Richard was educated at Oxford University and is thought to have been part of a military expedition to the Netherlands on behalf of England and Queen Elizabeth I. Nov. 8, 1576 he married Sybil Sheets in Amsterdam. Their sons William was born in 1580, Ambrose in 1586 and Joseph S. in 1588. Sybil died in 1588 while Richard died in his mid-thirties in 1597. Sybil could possibly have died from childbirth complications as her death occurred in the same year their son was born.
Joseph S. Cobb
My 9th Great-grandfather, 1588-1654
Joseph Cobb was born in Amsterdam, The Netherlands, in 1588. He married Elizabeth Flinton in 1609. In 1613, he arrived in the Jamestown settlement in Virginia on the London Company ship, Treasurer.
After the Treasurer delivered Joeseph Cobb to the settlement, while in port, it become famous when Captain Samuel Argall lured Pocahontas on board in order to kidnap her "for the ransoming of so many Englishmen as were prisoners of Powhatan…" (her father). Once aboard the Treasurer, Pocahontas was detained, the ship departed, and she was held captive elsewhere in the colony. During negotiations for her exchange, Pocahontas married John Rolfe in 1614.
Jamestown had been established in 1607 to find gold and a water route to the Orient. After the "starving time" winter 1609/10 during which only 60 the original 500 settlers survived, the London entrepreneurs who funded the settlement, started recruiting people with skills to survive. Joseph Cobb was classified as "a gentleman, entitled by rank to wear a sword and trained by experience to use one."
Joseph settled on land east of the James River. He returned to England and then back to Virginia to prepare for the arrival of his family. His wife, Elizabeth Flinton, and their sons, Benjamin and Joseph, arrived in Virginia in 1625 on the Bonnie Bess. Joseph and Elizabeth Cobb settled in Elizabeth City. Elizabeth was the sister of a colonial physician named Pharoah Flinton. Pharoah Cobb, who was born sometime before 1641, was named for him. Joseph Cobb was granted 400 acres in Isle of Wight County, Virginia. His will was executed in 1654. Elizabeth died prior to April 10 1671. Source
 The Will of Joseph Cobb(s)

"This is the last will and testament of me, Joseph Cobbs, aged sixty years of age or thereabouts. Imprimis. I do bequeath unto my well beloved wife Elizabeth Cobbs, one parcel of land containing three hundred acres of land or thereabouts, commonly called Goose Hill Land. And further I do bequeath unto my well beloved wife all movables that are upon the said land, as cattle (to say) , seventeen head of cows and yearlings and three calves, with hogs, young and old, thirty-two or thereabouts. Provided she does marry, ye said children that are left shall have each a child's portion, and so be divided between them. And further I do bequeath to my son, Benjamin Cobbs, one red cow and her calf. Item. And further I do bequeath to my son Pharoah Cobbs, one cow and her calf, Red. Item. And further I do bequeath to my daughter, Elizabeth Cobbs, one black cow and one black yearling. Item. This is my last will and testament, now living at the mercy of God on my death bed in good sense. As witness my hand this 1st day of March Anno Dom."
Joseph S. Cobbs
Note: By 1650, there were two Cobb families firmly established in Virginia, within just a few miles of each other…the families of Ambrose Cobbs in what is now York County, and that of Joseph Cobb in Isle of Wight County. DNA analysis of descendants of both men has now clearly established these two families were UNRELATED. Source
While there is no written documents connecting Joseph Cobb to any other children other than those mentioned by name in his will, including Nicholas Cobb, in his book "Nicholas Cobb Descendants, Neighbors and Relatives, 1613 – 1983," Joe H. Cobb states, "Of all the conjectures alluded to in this chapter the most plausible one is that which connects Nicholas Cobb to Joseph Cobb, the immigrant. The verdict is that Nicholas Cobb was "one of 'ye said children that are left." Through research of a variety documents, Joe H. Cobb deducted the following:
The likely children of Joseph and Elizabeth Flinton Cobb were:
Last
First
Born
Location Born
Died
Location Died
Spouse
Cobb
*Joseph Jr.
1610
1654
Cobb<
*Benjamin
1611/12
Cobb
*Pharoah
1624
1701
Ann

Mary

Cobb
*Elizabeth
1626
1690
Charles Barnham
d. 1690
Cobb
Henry
Cobb
Nicholas
1630/32
Isle of Wight Co., VA
8 May 1686
age:
abt 60
Susanna Byrd
b. abt 1635
m. abt 1641
d. 1667
age: 32
Cobb
Jane
1626
William Tooke
b. 1626
d. 1675
Cobb
daughter
1620
Edmund Prime
b. 1619
About Isle of Wight, Virginia


The first English plantations along the south shore within present-day Isle of Wight (near present-day Smithfield, Virginia) were established by Puritan colonists, beginning in May 1618. By 1634, the Colony consisted of eight counties with a total population of approximately 5,000 inhabitants. One of these was Warrosquyoake Shire, renamed Isle of Wight County in 1637, after the island off the south coast of England of the same name. The name was probably changed because the Isle of Wight had been the home of some of the principal colonists.

Source
Nicholas Cobb
My 8th Great-grandfather, around 1630-1686
Nicholas Cobb was born around 1611.  He married Susanna Byrd.
Susanna was the daughter of Robert Byrd (1615-1675) and Susannah Clarke (1618-unkown). Robert Byrd was the son of Thomas Byrd (1600-1623) and Elizabeth Burgh (1600-1681).
Although Nicholas was a mariner in his early life, he later became a planter and was very involved in the administration of business and legal affairs in Isle of Wight.
In his book, Joe Cobb lists many references to Nicholas in the early records of Isle of Wight County, Virginia:
In 1656 he was a witness to the transfer of a tract of land.
Jan. 3, 1661 William Tooke assigned 900 acres of land to Nicholas Cobb.
Jan. 31, 1662 Nicholas appears in the Surry County records as paying damages to John Richards. The reason for the payment is unknown.
Oct. 9, 1662, Nicholas requested administration for the creditors of the estate of William Cooz.
On Feb. 21, 1663, Nicholas patented 202 acres of land in Isle of Wight County. As was done back then, this was his financial reward for bringing people to the colony from England. This payment was for the transportation of his wife Susan and his daughters Mary, Susan and Jane and Jane Howard. Jane Howard's identity is unknown but she could have been a servant.
June 17, 1664, Nicholas patented 900 acres of land assigned to him by William Tooke.
November 9, 1664 he purchased a piece of land called Rattlesnake Neck.
November 1, 1666 he sold 150 acres to John Johns.
March 4, 1667 he sold land to John Frizzel.
July 23, 1667 he was appointed to be the attorney for handling the business of his friend who had just died, Samuel Davis. From the records, you can assume Nicholas and Samuel and their families were very close friends.
In 1668 or 1669, Nicholas was an appraiser of the estate of John Bond.
August 10, 1673, he sold land and the next day, he witnessed the selling of land.
On July 3, 1678, he purchased 900 acres of land from Thomas Tooke.
On October 21, 1681, he sold a tract of land.
On July 10, 1684 he witnessed Dorothy Bond's will and then was responsible for dividing her estate.
By May 8, 1686, Nicholas Cobb died suddenly before he had a chance to write his will. William Blunt and Richard and Sarah Bell testified as to Nicholas' comments on his deathbed.
"William Blunt, aged 60 years or thereabouts…at the house of Mr. Nicholas Cobb the night he was taken sick and died being sent for by him, he decided to take notice of what he said…he did give his son Nicholas twelve pounds; and he did give his son Edward his land and to the heirs of his body lawfully begotten and for want of such heirs to his daughter Mary and the heirs of her body lawfully gotten; and he did give to is daughter Sarah twelve pounds, and his personal estate to his son Edward and his daughter Mary to be equally divided between them two and further sayeth not." May 8, 1686
The children of Nicholas and Susanna Byrd were:
Last
First
Born
Location Born
Died
Location Died
Spouse
Cobb
Mary
aprx. 1655
Isle of Wight. VA
John Crew, Jr.
b. 1658
The land of John Crew Sr. abutted the land of Nicolas Cobb. The children of Mary and John Crew were William, Robert, Edward, Mary, Elizabeth, Joseph, John and Susanna.
Cobb
Susan
aprx. 1657
Isle of Wight, VA
Possibly William Exum Jr.
The land of John Crew Sr. abutted the land of Nicolas Cobb. The children of Mary and John Crew were William, Robert, Edward, Mary, Elizabeth, Joseph, John and Susanna.
Cobb
Nicholas Jr.
1651
Isle of Wight, VA
Jan 1687
age: 26
On August 9, 1676, he sold his brother, Edward, 200 acres of land called the "John Jones Plantation."
Cobb
Sarah
1663
Isle of Wight, VA
Bell
Sarah was likely the daughter who was at Nicholas' bedside at the time of his death.
Cobb
Edward
1664
Isle of Wight, VA
1731
age: 67
Dorothy Bond
m. 1687
Henry Cobb
My 7th Great-grandfather, 1700-1763
Henry Cobb was born in 1700 in Isle of Wight, Virginia. He bought his first tract of land in Bertie County, North Carolina in 1742 from Thomas Ryan. It's interesting to note when the deed was registered in court, one of the justices was James Castellaw, my 6th great grandfather. More about the Castellaw Family
Henry Cobb married Mary in 1729 when he was 29 and she was 19. According to Joe H. Cobb and other researchers this was very likely Mary Hardy.
More About Mary Hardy Cobb

Mary Hardy

was the daughter of

William Hardy I

and

Edith Batchelor

of Bertie County, North Carolina.

William Hardy I

was a cooper, owned land in Chowan County (later Bertie County), and was prominent in Colonial affairs. The Hardy family was in eastern North Carolina by 1695 and, as a cooper,

William Hardy I

fulfilled an important need for the Colony. Containers for naval stores, such as tar, pitch and turpentine (as well as whiskey) were in great demand.

William Hardy's

work had a distinctive mark, that of a W. Source:

David Hardy

, author, Bertie Co., Bk G p.322

William's parents and Mary's grandparents were John Hardy I and Charity O' Dyer.
 More About John Hardy
"North Carolina in 1695 was virtually a wilderness when John Hardy brought his family to the colony. Substantial settlement had begun only 30 years before. An educated man, John Hardy and his sons were destined to play a role in its development. John was a member of the House of Burgesses in early 1711 when they asked for aid from Virginia to help quell the Indian uprising.

In 1716, Governor Charles Eden appointed John Hardy as an assistant justice to Christopher Gale, Chief Justice. Over time, John Hardy served in other public positions including justice of the peace, tax collector, and juryman." Thomas Phillips of Pitt Co., NC and Affiliated Families, by G. Howard and Shirley Brague Phillips, 1992, 81-84.

"John Hardy, at a court held October 7, 1695, proved the rights for importation of himself and his wife Charity, and children William Hardy, Mary Hardy, John Hardy, Jr., Thomas Hardy, and Jacob Hardy. John Hardy and his family resided at his home in Chowan, North Carolina, until his death, which took place sometime prior to 1719, when the will of his son John Hardy II was probated. John Hardy and his wife Charity lived in Chowan (later to become Bertie County) on what is believed to have been the Manor Plantation. All the children of John and Charity were born in England, before they immigrated to this country, as it is witness by the document of importation." Saunders Colonial Records of N.C. and Vol 2, No. 1, N.C. Genealogical and Historical Register, 150.
On March 19, 1731, shortly after Henry Cobb married Mary Hardy, Henry sold the land his father Edward had left him in Isle of Wright with the exception of a small section that was 8 x 4 feet. That was the burial place of Edward. By 1739, Henry and Mary had moved to Bertie County where her family lived.
According to Joe H. Cobb's book, Henry Cobb and his son Henry Jr. attended the sale of John Williams' estate on August 11, 1758.
The items Henry Sr. purchased are an interesting look at the types of things that were important to people of that time:
two pair of fire tongs
an old drawing knife
two old candlesticks
a parcel of old iron
an old pewter basin
two old dishes
a small iron skillet
a tobacco knife
On Sept. 29. 1763, Henry Cobb made his will:
Will of Henry Cobb

In the name of God, Amen. September the 29th 1763

I, Henry Cobb of North Carolina in the county of Bertie, planter, being very sick and weak of body but of perfect mind and memory, thanks be given to God, therefore calling to mind the mortality of my body, and knowing it is is appointed for all men to die, do make and ordain this my last will and testament, that is to say principally and first of all I give and recommend my soul into the Hands of God that gravest and my body I recommend to the earth to be buried in decent Christian burial at the discretion of my executors.

Nothing doubting but at the General Resurrection I shall rise with the same by he Mighty Power of God and as touching such worldly Estate wherewith it has pleased God to bless me. I give and dispose of in the following manner, and first I will and positively order all my debts to be paid.

Imprimis, I give and bequeath to my loving wife Mary Cobb – land and plantation whereon I dwell. Likewise all my stock of cattle, hogs and horses (except one mare) and sheep and all moveable's and household furniture during her life, and after her decease the said plantation I give to my son. John Cobb, and as for the as for the movables, after my wife's decease I will that they be equally divided among all my children.

Item: I give and bequeath to my son, James Cobb, the land and plantation which I lately bought of William Cullifer, he helping to pay for it. I likewise give him that mare above excepted, she being a mare known by the name of "James' Mare."

Item: I constitute, make and ordain my loving ife y sole executrix of this my last will and testiments, ratifying and confirming this and no other to be my last will and testiment and I do hereby disallow, revoke, and disannul all and every other testaments, ratifying and confirming this and no other to be my last will and testament. In witness whereof I hereunto set my hand and seal the date above written.

Witnesses: William Hardy, Son of Lamb Hardy, Mary Vandaford, Abraham Morris
In Feb. 1764, Mary filed an inventory of her late husbands goods. Thankfully, Joe Cobb included that inventory in his book, because they give a very good glimpse at the life of a wealthy family in the Colonial United States in the late 1700s.
Money, cash about 20 pounds
and 27 shilling
Four head of horses
Twenty-one cattle
Thirty grown hogs
Sixteen pigs
Eleven sheep
Three old sadles and bridles
Four beds and furniture
Twenty-eight pounds
and a half of pewter, chiefly old
Eleven pounds and quarter of new pewter
Three bells
Some shoemakers tools
One small looking glass
About fifteen bottles
Two pair of cards
One meal sifter
A parcel of lumber
One small bottle
One drinking glass
One stone jug
A small matter of earthenware
One frying pan
Four iron pots
Two pair of hooks
One iron kettle
One candlestick and funnel
One pair of flesh forks and one spit
One case of knives and forks
One pair of fire tongs
Two old canisters
Two chests and his wearing apparel
Two chairs
Two tables
Two wooden wheels and one linen wheel
One fish gig
One griddle
One base iron
One pair of sheep sheers and rasor
Three guns and some powder and shot
One cutlass
One tobacco knife
Fourfalling axes
Two hatchets
One broad ax two iron wedges
Four hoes one plow
One fluke
One crosscut saw
One whip saw
One handsaw
Four augers two chisels two drawing knives
One pair of compresses
One reap hook
One cooper's adze
One carpenter's adze
Two plain irons
One grind hone
One cart and wheels
Three gimblets
One frow
25 barrels of corn
One and half bushels of beans
Fleece of nine sheep
Some flax and a small mater of cotton
One loom
One sleigh and harness
One hand mill
Six pounds of tallow
Three pounds of bees wax
Three bushels of wheat
Leather and one hide
Some potatoes
Three trays
Two pails and piggins
Two horse collars and traces
John Charles Cobb
My 6th Great-grandfather, 1750-1809
John Charles Cobb was born in Bertie County, North Carolina about 1750. He married his cousin, Sarah Capehart, about 1777.
More About Sarah Capehart

Sarah Capehart was the daughter of Michael Capehart and Frances Hardy. Michael was born in 1725 and died in 1785 in Bertie County, North Carolina.

Michael Capehart's father was George Capehart who was born in 1695 in Bern, Switzerland and died in 1710 in Chowan County, North Carolina. He was married to Mary Shrock who was born in 1691 and died in 1716 in Bertie County.

Sarah's mother, Frances Hardy, was the daughter of Lemuel "Lamb" Hardy and Elizabeth Parrott. Frances was born in 1734 and died in 1802 in Bertie County.
John referred to himself a cooper and a planter. He accumulated much land and, it appears, had a business making barrels and containers.
John is listed in the first U.S. Census:
Name: John Cobb
Birth Date: 1750
Birthplace: North Carolina
Volume: 31
Page Number: 192
Reference: Heads of fams. at the first U.S. census. NC. By U.S. Bureau of the Census. Washington, 1908. (292p.): 67, 79 1782 John Cobb listed as owning 300 acres of land, three horses, 11 cows and married. [Capt William Ashburn's dist] also his brothers, are William and James.
In September 1809, John wrote his will. He died between the time he wrote his will and October 12, 1809
The Will of John Cobb

Wife Sarah Cobb – lend all my lands where I now live, and the land in the Pointy [sic] Woods where John Morgan now lives, all my Negroes [Charles excepted], furniture, etc. all for her support and that of my family.
Son Charles Cobb – cow, chest to be given him at his marriage, etc.
My Negro Charles and the balance of my stock are to be sold at my wife's death.
Son John Cobb – land where I now live as far as the run of Eastermost Swamp.
At my wife's death I give the land over the swamp to my son Charles, but if Charles marries before my wife's death, he may have the chance of building and settling on this land.
Daughter Polly Cobb [wife of Henry Cobb] – cow, calf, bed, etc. which they have in their possession.
Daughter Cloe Gaskins – cow, calf, etc, which she has in her possession.
My land in the Poiney Woods is to be divided [at my wife's death] between all my children: Polly, Charles, Cloe, Nancy, Morning, Fanny and John in equal shares.
All Negroes living at my wife's death are to be divided among my children.
Bertie Co, NC – Will Abstracts by Gammon, John Cobb F-120, 8 Sept 1809 proved Nov 1809
The Children of John and Sarah Capehart Cobb were:
Last
First
Born
Location Born
Died
Location Died
Spouse
Cobb
Mary Polly
1730
Bertie Co., NC
1850/60
age: 20/30
Derby Leary
Cobb
Charles
1782
Bertie Co., NC
1846
age: 64
Mary Morgan
Cobb
Chloe
1784
Bertie Co., NC
1850
age: 66
John Gaskins
Cobb
Nancy
1790
Bertie Co., NC
James Phelps
Cobb
Mourning
1792
Bertie Co., NC
1846
age: 54
Haywood Co., TN
David Outlaw
m. 1820
Cobb
Frances "Fannie"
1796
Bertie Co., NC
1846
age: 64
Haywood Co., TN
William Steele Jr.
m. 12 Dec 1822
Cobb
John Hardy "Jacky"
5 Apr 1798
Bertie Co., NC
1880
age: 82
Haywood Co., TN
Harriett Warren Castellaw
b. 9 Dec 1794
m. 29 Apr 1821
11 Nov 1869
John Hardy Cobb
My 5th Great-grandfather, 1798-1880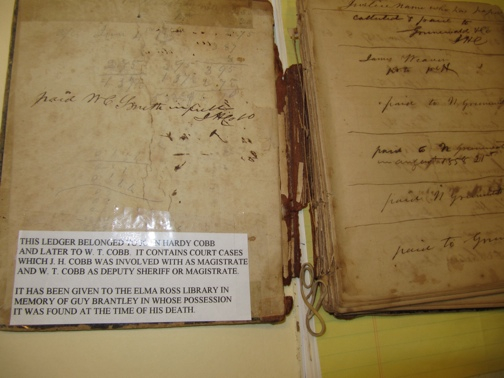 John Hardy Cobb was born in 1798 in Bertie County, North Carolina. He married Harriet Warren Castellaw in 1821 in Bertie County a few years before they headed to Haywood County.
Harriet was the daughter of John Dawson and Zilphia Castellaw. Harriet's brother was Thomas Jefferson Castellaw. More about the Dawson Family
Harriet Castellaw and John Hardy Cobb's children included William Thomas Cobb, who was the father of Mary Etta Cobb, who was the mother of William Day Brantley, who was the father of Virginia Brantley, who was the mother of Shirley Ann Lovelace, who is my mother.
Harriet's brother Thomas Jefferson Castellaw's son was Thomas Jefferson Jr., who was the father of Bob Castellaw, who was the father of Elizabeth Castellaw, who was the mother of Robert L. "Bob" Williams, who is my father.
According to Joe H. Cobb, in their family Bible, John and Harriet Cobb recorded that they departed for Haywood County, Tennessee from Bertie County, North Carolina on March 6, 1834 and arrived April 22, 1834. The journey in a covered wagon took nearly 50 days. John Dawson Castellaw, Harriet's father led many wagon trains from Bertie County to Haywood County then settled there himself in 1834. It's very likely he was leading John and Harriet Cobb's group through Tennessee.
John's two sisters, Mourning Outlaw and Frances Steele and their families were already living in Haywood County when he arrived.
In 1835, shortly after arriving, John Hardy and Harriet's seven-year-old daughter, Zilphia Elizabeth, died.
About a year after arriving, John Cobb became a constable. The first record of land purchased by John was in 1836. He purchased 50 acres from Miles Mezell for $125 on Dec. 29, 1836. Later John Cobb would become a school commissioner and a magistrate.
In 1838, another of their children, Monroe Clinton, died. He was two years old.
John Cobb continued to accumulate land and became very prosperous and leader in the community at the time. Both the Cobbs and the Castellaws along with the Brantley, Watridge, Lovelace, Marbury, Outlaw and other families settled and developed the land around what it now the Cobb family cemetery.
Henry Day Brantley described John Hardy Cobb to his grandson, L. A. Cobb. He said, "I remember your grandfather as being short in stature. His physique was of the roly-poly type. I remember him driving up to sales in a two wheel ox cart."

In 1845, the Cobbs lost a third child when Robert Davis died at two years old.
In the census of 1850, John was 50, Harriet was 45 and living at home were their children; William (17), Adeline (11), Denison (9), and Harriet (4). John was listed as farming land valued at $1,000.
All but Harriett could read and write but none had attended school in the previous year.
In April 1859 John and Harriet sold their ¼ interest in two tracts of land to her brother, Thomas J. Castellaw. One tract of land "lay on the waters of the South Fork of the Forked Deer River."
The other tract of land had had a portion sold by John and T. J. Castellaw to William Watridge.
One half acre of the land was not included in this sale for it contained the Cobb family cemetery.
John and Harriet's hard work paid off in the decade between 1850 and 60. By the census of 1860, 62-year-old John listed the value of his real estate at $7,440 and the value of his personal property at $9,610.
He listed his occupation as "Esq & Farmer" rather than just farmer. Esq. was used in that time to designate an attorney. Simeon (20) and Harriet (15) had both attended school in the previous year.
In the Civil War, two of John and Harriet's sons, John Charles Warren and Simeon "Sim" fought in Company L of the Seventh Tennessee Calvary. The company was also known as "The Western Rangers." One of the captains of the unit was Alex Duckworth who grew up a few farms away from the Cobb family.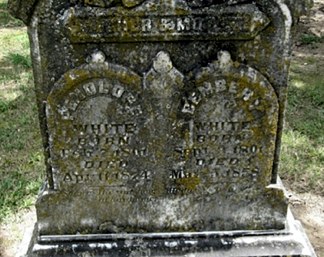 Also serving in company L was the new husband of John and Harriet's daughter Addie, Daniel Watridge and his brother Dorsey Watridge. More about the Watridge family
In October 1865, after the Civil War, John sold a tract of land to his son-in-law, Daniel, for $625.
John's wife, Harriet, died in 1869 at age 64.
In 1873, John Hardy married Agatha White who was only 46. At the time he was 75. Agatha was the oldest daughter of John Bembery "Bem" and Penelope White who had come to Haywood County around 1831 along with Bembery's brother, Charlton.
In November of 1873, John Cobb sold 40 acres of land to his son John C. W. Cobb for $500.
Another one of Bem's granddaughters, Penelope Trottman White, married one of John Hardy and Elizabeth's sons, John Charles Warren Cobb. Therefore, John Hardy Cobb had married the sister of his daughter-in-law, and one of his close friend's granddaughters. Through this marriage, he and his son became brothers-in-law.
On April 8, 1880, six years after he married Agatha, John Hardy Cobb died. They never had children and it appears Agatha never remarried.
He was buried in the Cobb Family cemetery along with his first wife Harriet Warren Castellaw Cobb.
In the census of 1900, Agatha was listed as a 72-year-old "aunt" living with Murdock and Hattie Byrum. She was likely the great-aunt because they were 28 and 26 and had three small children: Ina, Alasy and Mirium. They lived next door to the Joe Marbury family.
Agatha would live to be 85 years of age and died on April 28, 1912.
John Hardy and Harriet Castellaw Cobb are of particular interest to be because their son William Thomas Cobb is my maternal third great-grandfather while their daughter, Mourning Adeline Cobb Watridge is my paternal second great-grandmother.

John and Harriet's son, William Thomas Cobb, was the father of Mary Etta Cobb Brantley who was the mother of Willie Day Brantley who was the mother of Virginia Brantley Lovelace who was the mother of Shirley Lovelace Williams who is my mother.

John and Harriet's daughter Mourning Adeline Cobb Watridge was the mother of Zula Zera Watridge Castellaw who was the mother of Elizabeth Castellaw Williams who the mother of Bob Williams who is my father.
The children of John Hardy and Harriet Castellaw Cobb were:
Last
First
Born
Location Born
Died
Location Died
Spouse
Cobb
Sarah Frances
26 Aug 1822
Bertie Co., NC
2 May 1896
age: 74
Haywood Co., TN
buried: Cobb Family Cemetery
James Cowan Cobb
Sarah was eleven when her family moved from Haywood to Bertie County.
The child of Sarah and James was John David Cobb. In the census of 1880 they have an 11-year-old girl living with them named Minnie Henderson.

 Photo: Scott Williams / Headstone of Sarah and James Cobb in the Cobb Family Cemetery.

Cobb
Samuel Alexander
1824
Bertie Co., NC
1906
age: 82
Cobb
Leonard Decatur
2 Nov 1825
Bertie Co., NC
9 Apr 1906
age: 81
Haywood Co., TN
buried: Zion Baptist Church Cemetery
Mary Amanda Rooks
b. abt 1828
m. 31 Jan 1850
d. 10 Oct 1907
age: 79
buried: Zion Cemetery
Children of Leonard and Mary were Elizabeth Amelia who died at age 4, John Monroe and Mary Catherine. Also living with them in the census of 1860 was Elizabeth Outlaw. According to Joe Cobb's book, their son John Monroe Cobb was "quite a scholar but could never adjust himself to the practical things in life." He died at Western State mental hospital Jan. 24, 1920 and was buried in Zion Baptist Church Cemetery.
One of John Monroe Cobb's daughters was Lura Cobb. She never married, was very eccentric and was called "Miss Lura." She was a member of Holly Grove Baptist Church. She wore long dresses and, even in the summer wore a long overcoat, galoshes, a scarf around her face and a bonnett. She lived very close to and went to church with my father, Bob Williams who remembers being afraid of her and never seeing her face. If he saw her coming down the road he would hide until she passed. My mother, Shirley Lovelace Williams, remembers her as being very interested in what and how her family members were doing and how Lura would ask about them whenever she would run into her.

 Photos: Scott Williams / Lura Cobb and her grandparents Leonard and Mary
are buried in Zion Baptist Church Cemetery.

Monroe Cobb's other daughter, Mary Catherine Cobb married John N. Williams. In 1900, John and Mary were living next door to George and Mary E. Watridge Castellaw and their "nephew" Willie Williams who was 12. This was likely George D. and Martha Williams' son who would grow up to be Will Williams. 20 years later, in the census of 1920, John and Mary were in their late 60s and living next door to Will and Eva Williams and their 9 year-old son, Jesse Lloyd "Bo" Williams, my paternal grandfather. More about the Williams family.

Cobb
Zilphia Elizabeth
1828
Bertie Co., NC
1835
age: 7
Haywood Co., TN
Cobb
John Charles Warren
11 Oct 1830
Bertie Co., NC
25 June 1914
age: 74
Haywood Co., TN
burried: Cobb Family Cemetery
Penelope Trottman White
The children of John and Penelope were Redrick Franklin who died at age eleven, William Carlos, Ella Cerlyster, John Hardy, Virginia Estelle and Idella Drusilla. John joined the Western Rangers during the Civil War and eventually made the rank of sergeant in Company L of The Seventh Tennessee Calvary. John and Penelope's daughter, Virginia Estelle, was the third wife of George D. Williams, my third great grandfather. According to the Joe Cobb book, their daughter, Lorene married Henry Brantley although I am not certain this is the Henry Brantley who is my third great grandfather.

 Photos: Scott Williams / John Charles Warren Cobb's headstone in the Cobb Family Cemetery.

Obituary of John Charles Warren Cobb
Zion Baptist Church Minutes, June 1914
Death has once again invaded our ranks and as usual chose a shining light in the person of Deacon J.C.W. Cobb who was born October 11 1830; was married to Miss P.T. White December 23, 1850; the Rev. George E. Thomas performing the ceremony.
He professed faith in Christ and joined Zion Baptist church when quite young, and we can say of a truth that he lived a consistent member until death called him to his heavenly home on June 25, 1914.
He as a senior deacon of our church for a good many years and all who knew him seemed to realize his devotion to the cause of his Master and his love for the church of his choice. His seat was ever occupied unless prevented by something providential. Consequently we view his empty seat with profound sorrow.
Brother Cobb was of very pious inclinations. We do not believe that he would have knowingly wronged anyone. His friends were numbered by his acquaintances for we all loved him.
Up to the time of his late illness we expected to see him at all church meetings.
Brother Cobb leaves, beside one son and two daughters, a host of relatives and friends in sorrow; but they know he is now with the angels. Therefore we think he could say like Paul, "I have fought the good fight and have kept the faith and am ready to be offered up.
Resolved first that we try to imitate his example and cherish his memory.
Second that we miss his encouraging counsel and presence in the deliberations of our church.
Signed: D.A. Stewart

Cobb
William Thomas
1833
Haywood Co., TN
1898
age: 65
Haywood Co., TN
buried: Cobb Family Cemetery
Elizabeth Temperance Outlaw
m. 25 Jan 1866
d. aftr 1920
buried: Cobb Family Cemetery
Cobb
Monroe Clinton
1835
Haywood Co., TN
1838
age: 4
Haywood Co., TN
Cobb
Mourning Adeline
15 Mar 1838
Haywood Co., TN
30 Aug 1876
age: 38
Haywood Co., TN
buried: Cobb Family Cemetery
Daniel Washington Watridge
b. 1835
m. 28 Nov 1877
d. aft 1880
Cobb
Simion Amherst "Sim"
29 Aug 1840
Haywood Co., TN
7 Mar 1927
age: 87
Haywood Co., TN
buried: Cobb Family Cemetery
Nellie Elizabeth "Bet" White
b. m. 25 Dec 1864
d.23 Apr 1890
buried: Cobb Family CemeteryRebecca Caroline White
m. 25 Nov 1893
buried: Cobb Family CemeteryCaroline Fletcher "Callie" Betts
b.1 Feb 1871
m.2 Aug 1903
d. 20 Apr 1935
age: 64
buried: Holly Grove Baptist Church cemetery.
Sim was a small man who weighed only 150 lbs at his heaviest. He fought in company L of the Seventh Tennessee Calvary in the Civil War. He married his third wife when he was 63 and she was 32. She was younger than two of Sim's children. They were married 24 years and had four children together.
Part of Sim's diary is included in Joe Cobb's book. From reading that, you can discover Sim spent a great deal of time with many of my ancestors including W.C. Cobb, Tommie Rawls, J.C.W. Cobb, Sam Marbury, Sarah Elizabeth Steele, Daniel Watridge, Tinie White, Martha Watridge and others.

Sim and third wife, Caroline Fletcher Cobb and Sim's headstone in the Cobb Family Cemetery.

Cobb
Robert Davis
1843
Haywood Co., TN
1845
age: 2
Haywood Co., TN
buried: Likely Cobb Family Cemetery
Cobb
Harriett Ann Justina "Tiney"
30 Sept 1845
Haywood Co., TN
20 Apr 1918
age: 73
Haywood Co., TN
burried: Cobb Family C
James L. White
m. 2 jul 1872
The children of Harriett and James were Minnie Lee and Egbert Oscar. According to Joe Cobb's book, James left to get some wood for the stove and never came back. Oscar White married Addie Lovelace and when she died he married her sister Alice Lovelace. These were the sisters of Jim Lovelace, my great grandfather.
More about William Thomas Cobb and Elizabeth Temperance Outlaw Cobb:
Tom Cobb was an infant in 1834 when his family made the journey from Bertie County, North Carolina to Haywood County, Tennessee.
He served as a private in the Western Rangers, Company L of the Seventh Tennessee Calvary Regiment, C.S.A.
After the Civil War ended, Tom married Elizabeth "Bet" Temperance Outlaw. She was one of three sisters who went by the nicknames of Pink, Pet and Bet. They were the daughters of George W. and Luday Perry Outlaw.
Tom and Bet were married on Jan. 25, 1866 by the Rev. George E. Thomas of Zion Baptist Church.
Bet's father, George W. Outlaw was born Sept. 18, 1803 in Bertie County and was a descendant of Ralph Outlawe (1545-1619) and Amye Bevis (1549-1615).
A Little Outlaw History

"The Visitation of Norfolk (English census) of 1613 included Ralph Outlawe of Little Wichingham (son of Thomas) and Amye his wife, daughter and heir of John Bevis of Little Wichingham, and their children as follows:

Thomas Outlawe (to whom was granted arms and crest) Margaret Cory, his wife, daughter of Francis Cory of Brameston and their children, Roger, Thomas, Anne and Elizabeth." (Harleian Society – Vo. 32)

Ralph and Amye Outlaw were the parents of Thomas Outlaw (1570-July 3, 1633). His wife was Margaret Cory (1574-1630) daughter of Francis Cory of Brameston. Thomas Outlaw became the Lord of the Manor of Cleyhall in Wichingham Parish in 1598.

Thomas and Margaret were the parents of Robert Outlaw (1595-July 4, 1671) whose wife was Elizabeth Kempe (1606 –1671). In Ringland Parish, England, in the middle aisle of the church is a slab dedicated to Robt. Outlawe.

Their sons Edward and Captain John Outlaw were the first Outlaws to come to America. Edward was born in Little Wichingham, Norfolk, England and sailed to Norfolk, County, Virginia, with his brother, Captain John Outlaw.

Once there, Edward married Elizabeth, daughter of William and Mary Davenall also of Norfolk County, about 1680. Edward's brother, "Captain John was much older than Edward (though a young man, probably in his middle or late twenties). William Davenall was a Constable and neighbor of Capt. John and Edward.

"Captain John got Edward into trouble with the law on at least two occasions: (1) engaged him and another minor to help him unlawfully kill a steer, and (2) failure to do his share in keeping up the public roads in his area-an example set by Capt. John-(BCH in HSF, pg.2). There, the facts are brought out in detail. However, after Capt. John apparently returned to England, Edward grew up to become a very good citizen." Source: Mr. Edward Hinkle of Blooming Grove, Texas

Edward and Elizabeth's son was Ralph Outlaw (1687-1760) and his wife was Ann Rice (1694-1750). Ralph and Ann moved to Chowan County, NC which later became Bertie Co., NC. Ralph and Ann's son was John Outlaw (1712-1780) was born, lived and died in Bertie Co., NC. John's wife is unknown.

John Outlaw's son was Jacob Outlaw (1757-1832) and Jacob's wife was Winifred Wilson (1787-1830). Jacob and Winifred were the parents of George W. Outlaw who was the father of Elizabeth "Bet" Temperance Outlaw who married William Thomas "Tom" Cobb.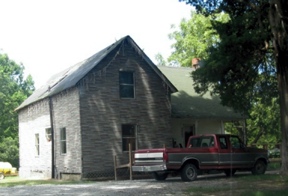 George and Luday Perry Outlaw married in 1827/28 when she was 27 and he was 24. Around that same time, a bill was entered in the Nov. 26, 1828 session of the North Carolina general assembly "to alter the name and legitimate Andrew Jackson Perry of Bertie Co., NC, illegitimate son of George W. Outlaw; to be known as Andrew Jackson Outlaw." Source
Luday Perry was born May 6, 1800 in North Carolina and died June 24, 1842 in Haywood County at the age of 42. She is buried in the Ararat Church cemetery in Huntersville, Tennessee near Brownsville. After her death, George moved to Earle, Arkansas.
George married Rowena Lindley in 1861 at the age of 56 but died in Earl a year later on April 11, 1861.
After George and Ludy's daughter, Bet, had been married to Tom for a few years, in the late 1870s, Tom's siblings all sold him their shares in the land their mother, Harriett Warren Castellaw had left all her children.
This land is where the Preston Brantley family would eventually live and farm and is now owned by Lynn and Sonny Cobb so it remains in the Cobb family.
At the time Tom Cobb acquired the entire property, the land was bonded on the north by land belonging to Daniel W. Watridge (my second great grandfather), on the East by J. C. W. Cobb (my third great uncle) and on the West by Thomas A. Lovelace (my third great grandfather). Tom and Bet's first child died at seven months old in 1867.
By the time of the census of 1880, Tom Cobb is 47, Bet is 43 and living at home is Martha A. (12), Mary E. (9), Thomas A. (2) and a nameless baby girl who was 7 months old. Also living in the home was Tom's sister Harriett A. White (34) and her children Minnie L (7), and Egbert O. (5). According to family history Harriet's husband went to get some firewood and never returned home.
Tom died in 1898 and was burried in the Cobb Family Cemetery. Bet died sometime after 1920.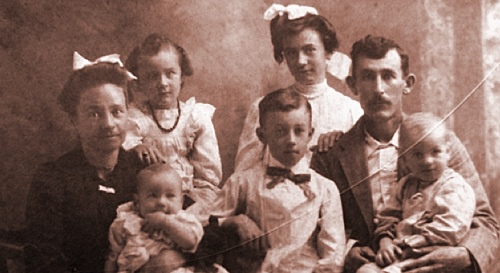 The children of William Thomas "Tom" and Elizabeth "Bett" Temperance Outlaw Cobb were:
Last
First
Born
Location Born
Died
Location Died
Spouse
Cobb
Harriett Elizabeth
29 Dec 1866
Haywood Co., TN
27 Jul 1867
Haywood Co., TN
age: 7 months
Cobb
Martha Adeline
3 March 1868
Haywood Co., TN
1964
age: 96
Haywood Co., TN
Will Mann
Martha "Pat" and Will Mann were the parents of Hattie and Sallie "Bett." Martha and Will were married by my third great-grandfather, Robert Green Marbury. Martha and Will also raised Will's nephew Sidney Outlaw. Sidney's parents, Bill and Leanna Outlaw, died one day apart, leaving seven children orphans. Leanna was Will's sister and she died when when Sidney was two years old. The rest of the children went to live with various relatives.

Photo: Diane Lyle / Pat and Will at their home on Poplar Corner Road in Haywood County.

Photo: Diane Lyle / Pat and Sallie Bett Mann

Pat and Will with their daughters, Hattie and Sallie "Bett." Both married but neither had any children.

Cobb
Mary Etta
15 May 1871
Haywood Co., TN
5 Jan 1935
age: 64
Haywood Co., TN
burried: Cobb Family Cemetery
Henry Preston Brantley
b.11 Oct 1872
m. 11 Jul 1894
d. 5 Jan 1935
buried: Cobb Family Cemetery
Cobb
Thomas Adelbert "Dell"
15 June 1877
Haywood Co., TN
2 Feb 1920
age: 43
Haywood Co., TN
burried: Cobb Family Cemetery
Elizabeth Frances "Lizzie" Gordon
b. 20 Oct 1879
m. 17 Nov 1897
d. 2 Dec 1938
age:59
burried: Zion Baptist Church Cemetery
Dell and Elizabeth were the parents of Jesse T. and Bernie W. Cobb. Dell died from rabies in 1920. He was a member of the county court and was also a member of Zion Baptist Church. In the book, "A History of Zion Baptist Church," their son Bernie wrote, "To my father, T. A. Cobb, and my mother, Elizabeth Frances Gordon Cobb, no other parents would I have chosen, 'had the choice been mine.' My Dad expired when I was eleven years old, leaving my mother with the double responsibility of parenthood. Her goal and task was to maintain a gentle Christian environment in our home. This doctrine, she felt, would fortify our lives against attacks of the outside world and to discipline our personal conduct. She was always the last to lower the wick and blow out the dim light after all others were tucked into bed. Then through darkness, to the bedside, where in humble posture on her knees, we heard our mistakes and needs lifted to heaven. These paternal lessons, together with the pious and memorable souvenirs of homely firesides, were indelibly stamped in our souls, never to be erased from our memories."

Dell and Lizzie Cobb

Cobb
Nora
1879
Haywood Co., TN
1970
age: 91
Walter Louie Gordon
Nora and Walter Gordon were the parents of Thomas George, Louis Clarence and William A. Gordon. Robert Green Marbury also married them.

Photo: Diane Lyle / Nora Cobb Gordon in 1958

Nora and Walter Louie Gordon
Do you have more facts, information or photos you would like shared here or do you see errors? Please let me know.
Return Home