After blogging about searching for the location of Richard Nixon's cabin and then blogging about finding it, being home for the holidays gave me a great chance to see it for myself. Thanks to Billy Wright for the directions to the location and to Durwood Dixon, the current owner of the land, for giving me the permission to check it out. I wore bright red and tried very much not to look like a deer.
Richard Nixon (January 26, 1769-July 25, 1831) was the first settler to build a cabin in Haywood County, Tennessee. As payment for his father's service in the Revolutionary War, Nixon was granted 3,600 acres in the "Western District" in 1821. He chose to build a cabin on a creek off the Forked Deer River. He then quickly built a store and landing on the Hatchie River to capitalize on the traffic of settlers moving into the area. On March 8, 1824, a group of those settlers gathered at Richard Nixon's cabin on what was by then named Nixon Creek to hold the first session of the Haywood County Court.
In the video, you can see the likely location of that original cabin behind and to the right of the headstone. I can find no evidence to confirm that so it's just speculation at this point. Durwood Dixon also mentioned he remembers a place on the property where bricks were made by slaves.
The leaders of the new community continued to meet at Nixon's home until 1825 when the first log courthouse was completed on the town square of Brownsville, about three mile west of this location. Richard Nixon died on July 25, 1831 at age 62 and was buried in the "Nixon Family Cemetery about three miles east of Brownsville." While it can't be proven, it's logical to think it was somewhere on his property.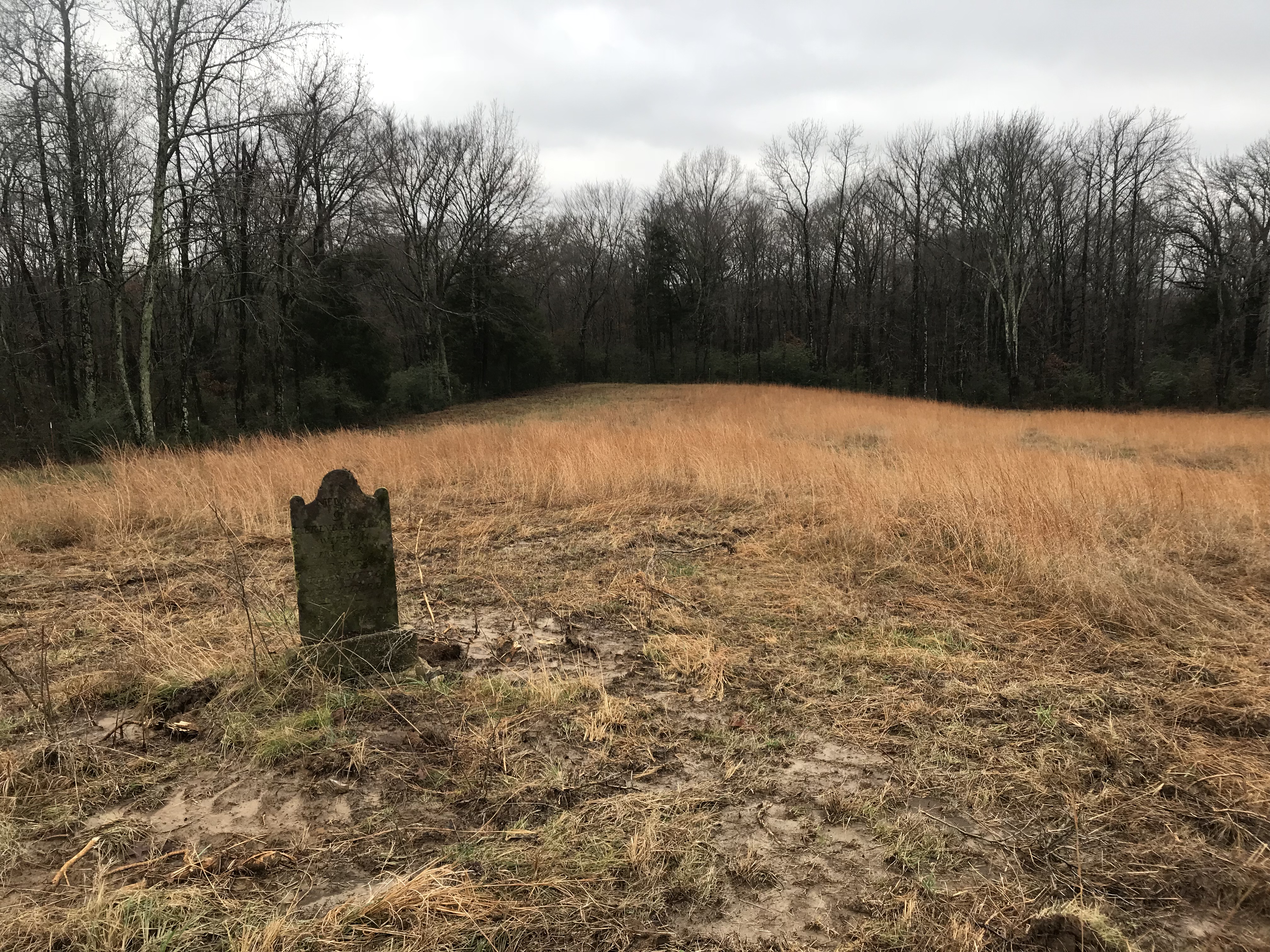 The headstone is certainly a good indicator that a cemetery was located here at one time, so I was expecting this to be the headstone of a Nixon family member.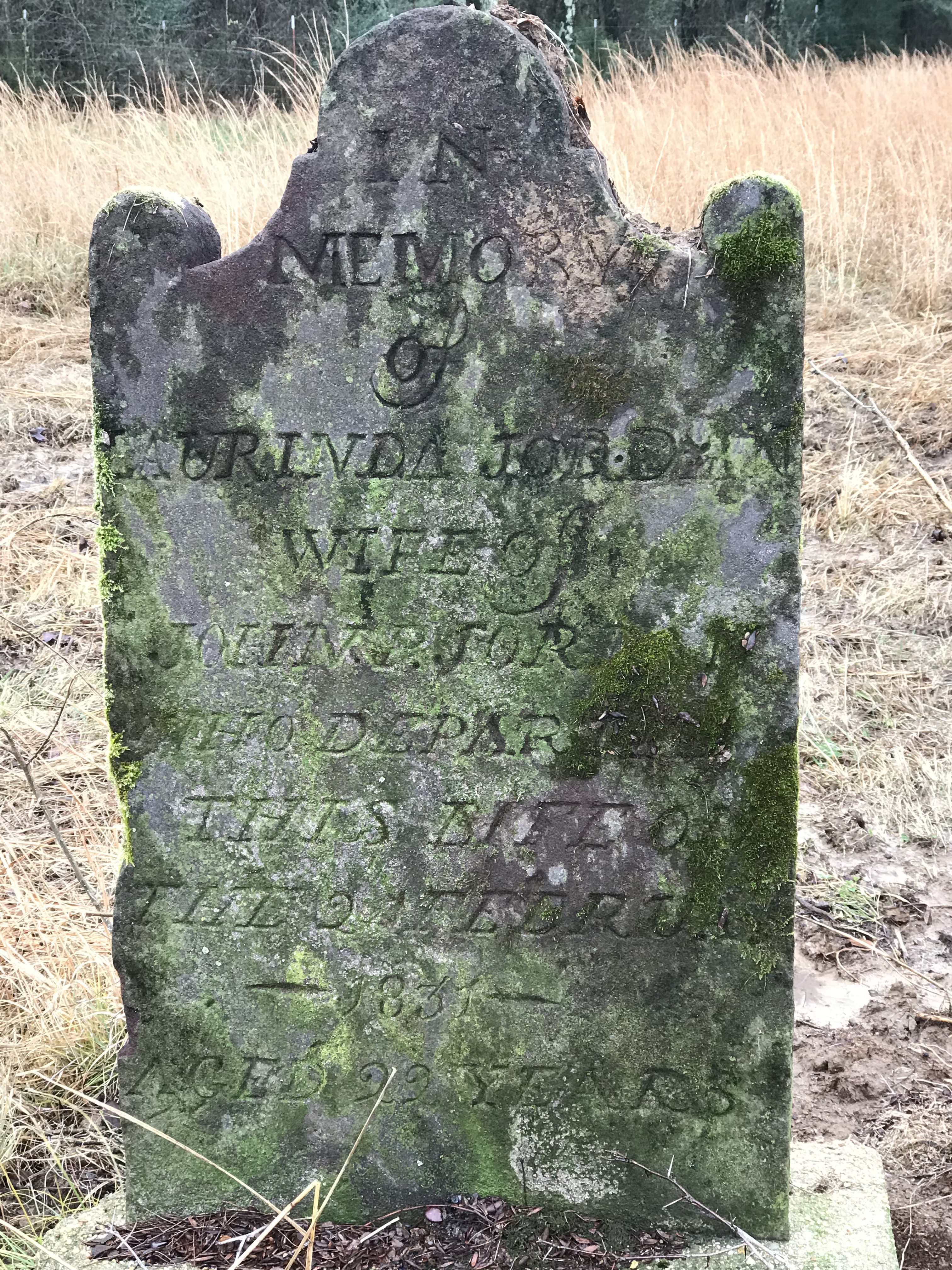 I had a hard time figuring out some of the inscription, so I shared it on a genealogy Facebook group and they helped me figure it out:
IN
MEMORY
OF
LAURINDA JORDON
WIFE OF
JOHN P. JORDON
WHO DEPARTED
THIS LIFE 24 FEBRUARY
1831
AGED 22 YEARS
(It's possibly the 2nd of February).
As is so often the case in genealogy research, solving one mystery opens the door to a new one. Who was Laurinda Jordon?
In looking at the family tree of Richard Nixon, not only can I not find anyone named Laurinda, I can't find anyone with the surname of Jordon. The United States census of 1830 does include a Samuel Jordan in Haywood County but it appears he had no additional "free white persons" living in his home at the time.
If you jump ahead 10 years, you do find a John Jordon in the Haywood County census of 1840. It appears he lives alone and has no slaves. His age is listed as "20-30" so he would be around the right age to have been Laurinda's husband. After 1840, he disappears.
Could Laurinda Jordon have been one of Richard Nixon's slaves? The 1830 census records 8 "free white persons" and 43 slaves for Nixon. 5 of those slaves were females, 10-24. However, it seems doubtful a slave would have had what at the time must have been a substantial headstone.
Ultimately, it seems the identity of Laurinda Jordon is going to remain a mystery unless someone out there has more clues that would help identify her. If you do, feel free to message me on Facebook or leave a message below.
You can find out more about each of my specific family lines at HaywoodCountyLine.com or read more blogs posts about the history of West Tennessee on my blog page.
Richard Nixon Cemetery and Creek