My direct descendants are in bold type. This is a work in progress. Much of my direct line is documented, but some may not be. If there is a question, I usually include words like "seems likely" or "possibly" in hopes that it may help someone else or eventually get me closer to documentation. Also, I do make errors when transferring info to my files or to the site. If you find errors that you can correct, please e-mail me and I'll gladly make the changes or if you have more information on anyone mentioned here and can share it, I would be really appreciative.
Henry Forrest
Likely my 6th Great-grandfather, 1741-1780 
In the Dobbs County, North Carolina tax list of 1780, there includes a notation that Moses Manning was the administrator of Henry Forrest's estate.
The place of Henry Forrest's birth is unconfirmed.
It's likely, although not proven, that this Henry Forrest was my sixth great-grandfather.
He was likely the father of George Forrest who was the father of two of my ancestors who were siblings: Mary A. "Polly" Forrest Yelverton and Samuel W. Forrest. George Forrest's daughter Mary A. "Polly" Forrest Yelverton was the mother of two of my maternal ancestors who were also siblings. To clarify:
Mary A. "Polly" Forrest Yelverton was the mother of…


Samuel Yelverton, who was the father of Maggie R. Yelverton Marbury, who was the mother of Hardy Joyner Marbury, who was the father of Allie Marbury Brantley, who was the mother of Virginia Brantley Lovelace, who was my maternal grandmother.

and…

Nancy Jane Yelverton Lovelace, who was the mother of Jim Lovelace, who was the father of Guy Lovelace, who was my maternal grandfather.

My grandparents, Guy and Virginia Lovelace, used to joke that they were distant cousins so this was likely the connection to which they were referring, although as far as I know, they were unaware of the specific connection.
Henry Forrest died in 1780, likely in Dobbs County. He was probably married to Mary Moore who was born in 1735 in Tyrrell County, North Carolina and died at the age of 63 in 1798 in Montgomery County, North Carolina.
This Henry and Mary Forrest are thought to have had five children.
In addition to Dobbs County, other North Carolina counties with descendants of this family include Greene, Gates, Bertie and Martin Counties.
The possible children of Henry and Mary Moore Forrest were:
Last
First
Born
Location Born
Died
Location Died
Spouse
Forrest
George
abt 1760
N.C.
1827
age: around 50
Wayne Co., N.C.
Winifred Joyner
b. 1760
d. Aug 1835
Forrest
Henry
abt 1755
1800
age: around 45
 Gates, N.C.
 Sarah
Forrest
Elizabeth
abt 1758
Bertie Co., N.C.
 Benjamin Moore
m. 30 Apr 1775
d. 1780
On May 4, 1770, in Bertie County, North Carolina, Benjamin Moore was listed as a 16-year-old orphan of John Moore and was bound as an apprentice to Josiah Williams to learn the trade of a carpenter. Haun, Weynette (1980). Bertie Co., N.C. County Court Minutes, vol III. book III, p 92. Source.  It's been suggested that after Moore's death, his widow, Elizabeth Forrest Moore, married Joseph Pate in 1782.
Forrest
William
31 Oct 1761
Dobbs or Greene Co., N.C.
5 Nov 1843
Bertie Co., N.C.

Buried in the Forrest Family Cemetery

Nancy Spivey
b. 1760
d. 10 Nov 1843
William enlisted as a private on Sept. 17, 1778 when he was 16. His pension application number is 8512.

Much information is available regarding William because of DAR application #382614 submitted in 1949.

Their children are thought to have been Winneford (married Dove Williams), Rebecca (married Barrum Hart), Vicie Ann (married Captain John Frizzelle), Nancy (married James Simmons), and Ricky (married Alice).

Mrs J. W. Morton wrote of William Forrest, "…(He) was a large land holder in Greene County near Scuffleton and had many slaves…(he) served in the American Revolution under Captain Thomas Short, Colonel William Caswell and Generals Bryant and Ashe. He was in the Battle of Brier Creek in 1779. In 1780 he was serving under Captain William George, Colonel John Spicer and General Livington. In 1832 he drew a pension for his war services."

Photo: fehlk34 on ancestry.com
Erin Moore in front of marker for William Forrest Farm

The Forrest family has continuously occupied, owned, and operated the farm/plantation that was obtained by William Forrest as a result of his service during the Revolutionary War and received the designation as a "Bicentennial Farm."

The farm is located in what is now Greene County, North Carolina, just south of Pitt County on Highway 903, between Ayden and Maury, North Carolina. Source

Forrest
Samuel
around 1770
Greene Co., N.C.
Samuel fought in the war of 1812 and was listed as being from Greene County, North Carolina.
George Forrest
My 5th Great-grandfather,  1760-1827

Much of this Forrest/Yelverton information is available thanks to the great research of Douglass N. Rader, Ph.D., Gene Forrest, Leah Ruddock and other Forrest family researchers.
George Forrest was born in 1760 in what would become Martin County, North Carolina likely to Henry and Mary Moore Forrest. Martin County was formed in 1774 from parts of Halifax and Tyrell Counties in North Carolina.
The 1790 census shows a George Forrest living in Martin County, North Carolina with two white females and four slaves.

Through land records located multiple places online, it appears the family moved around North Carolina a little. From Johnston County they moved to Wayne County and then ultimately settled Pitt County.
George Forrest married Wineford Joyner (possible spellings Winifred/Joiner) who is thought to be the daughter of Thomas Joyner/Joiner who also lived close to or in Martin County, North Carolina. More about my Joyner family line
George Forrest first appears in the Wayne County land records in 1797, purchasing lands near Etheldred Yelverton close to the Nahunta Swamp.
George Forrest was in Wayne County in the 1800 census and had five children living in his household. He had a total of 13 listed listed with six of those being slaves.
It would have been difficult to identify him in this census as the spelling of his last name in the census was "Foress." Fortunately, Forrest family researchers who came before have corrected that error.
George Forrest witnessed the will of Etheldred Yelverton's paternal grandmother, Elizabeth Downey Yelverton, the wife of John Yelverton Jr. (1721-1795) in 1803. Other than the proximity of their land, this is the first interaction between the two families that I have seen. More about my Yelverton family line
In 1808, the families got even closer when Etheldred married George's daughter, Mary who was called "Polly." Etheldred Yelverton's great-grandparents and, because of a later marriage my seventh great-grandparents, were John Yelverton and Elizabeth Blount Yelverton of Edenton, North Carolina (You can check out my visit to Edenton and James Blount on my blog). Elizabeth was the granddaughter of Captain James Blount, a colonial official and one of 18 leaders in a political battle in 1677 that came to be known as Culpeper's Rebellion.
By 1807, George had purchased more than 200 acres in the area.
In 1810, their household had grown to 16, which included nine slaves.
Around 1813, George sold his land in Wayne County and migrated east to Pitt County where he purchased a large amount of land there.
The Pitt County Courthouse burned in 1857 so many of the records that would tell us more about this family were unfortunately destroyed.
George died in Pitt County, N.C. at least by 1827.
In her later years, Wineford is thought to have lived with her daughter Polly Forrest Yelverton in Wayne County.
Wineford died there in 1835. She had written her will 28 July 1833 and it was probated Aug 1835. It is unknown where George and Wineford are buried.
In Wineford Forrest's will, she refers to, "my beloved daughter Polly Yelverton, wife of Etheldred Yelverton, my son Samuel, my beloved granddaughter Drucilla Forrest, daughter of my son Whitney Forrest, my grandson George Forrest, son of Whitney Forrest, and my three daughters." The rest of her estate was to be equally divided between "Thomas Forrest, Samuel Forrest, Whitney Forrest, Polly Yelverton wife of Etheldred Yelverton, and Winny Outerbridge wife of Stephen Outerbridge."
 The children of George and Wineford Joiner Forrest were:
Last
First
Born
Location Born
Died
Location Died
Spouse
Forrest
Mary A. "Polly"
1790/91
Martin Co. N.C.
1862
age: around 71
Wayne Co., N.C.
Etheldred Yelverton
b. 1784
d. Aug 1851
Wayne Co., N.C.
Etheldred and Polly are also my fourth great-grandparents in the Yelverton line of my family.

They farmed in Wayne County, North Carolina and had 12 children together, all of whom seemed to have lived to adulthood. They were the parents of Hardy Yelverton (Nov. 12, 1810 – Apr. 11, 1887, married Mary J. Bardin), Thomas Whitney Yelverton (Jan. 1, 1812 – Jun. 21, 1890, married Nancy Cumi Farmer), Hyman Yelverton (1818 – 1887, married Elizabeth Yelverton), George Teaberry Yelverton (1819 – 1860, married Glennie Edith Farmer), John Yelverton (Oct. 10, 1820 – Dec. 17, 1904, married Indiana Sasser) , Nancy Yelverton Davis (1822 – 1887, married John E. Davis), Winnifred Yelverton Davis (married Zacheriah Davis, b. 1826), Drucilla Yelverton Lewis (b. 1828, married Leonard Lewis), Samuel W. Yelverton (1828 – 1876, married Ann M. Sherrod, my third great-grandparents), Robert W. Yelverton (1832 – 1899, married Missouri W. Heath).

Etheldred Yelverton is listed as farmer in the Wayne County, North Carolina census of 1850 with $6,200 in property. Etheldred was 66 and Mary was 60. Six of their children were still in their household so their plantation must have had a lot of rooms. The family had a large number of slaves and, Ethedred's will implies that they were farming a very substantial plantation.

Next door to Etheldred was the family of his brother, John Yelverton.

You can read more about this family on the Yelverton page of my website.

Forrest
Thomas Joiner
13 Feb 1792
Martin Co., N.C.
10 July 1847
age: 55
Haywood Co., Tenn.
Charlotte Brown
b. 13 Jul 1793
d. 10 Jun 1862
age: 68
Thomas and Charlotte married in North Carolina. She was the daughter of Samuel and Elizabeth Brown of Green County, N.C.

Thomas and Charlotte migrated to Haywood and Madison Co., Tenn. with other family members. According to a family Bible, the Brown family left N.C. in covered wagons on Thursday, March 16, 1826 and arrived in the "Forkodeer hinterland" on May 11, 1826. Charlotte's brother, Samuel Brown Jr. and his wife Nancy settled along a creek in Haywood County that is still called Brown Creek.

The 1817 will of Charlotte's father, Samuel states: "Item – I give and bequeath unto my beloved daughter Charlotte Forrest: two negroes named Isham and Sophy, one bed and furniture, one heifer, four head of sheep to her and her heirs forever."

Samuel Brown died in Green Co., N.C. before his family migrated to Haywood County but the will was recorded in the probate records there.

Thomas Joiner and Charlotte Brown Forrest's children were Elizabeth Forrest Briley (1818-1923,married John Briley), George Forrest (1820-1849, married Rebecca Gordon), Samuel Brown Forrest (1822-1910, married Mary McDaniel and Sarah N. Watridge), John Whitney "Jack" Forrest (1825-1822, married Lovie Jane Tailor, pictured below), Wineford Ann Forrest (1827-1835, died when she was eight), John Brown Thomas Forrest (1829-1901, married Mary Jane Cox), Charlotte Margaret "Polly Ann" Forrest Moore (1832-?, married Grover Moore), and Abel James Henry Forrest (1835-1837, died when he was two).

Photo: Gene Wright Forrest

Photo of Jack Forrest's wife, Lovie Jane Tailor
of Haywood County, Tenn., 11 Nov 1827 – 1 Aug 1909.

Photo: Gene Wright Forrest

Pictured here at David Forrest's home on the border of Haywood and Madison Counties around 1905 is, l to r: Samuel Brown Forrest (Sept. 8, 1822 – Jan. 20, 1910, son of Thomas Joiner Forrest and Charlotte Brown Forrest); David Andrew Forrest (Dec. 6, 1858 – Aug. 22, 1935, son of Samuel Brown Forrest and Mary McDaniel Forrest and grandson of Thomas Joiner Forrest and Charlotte Brown Forrest); David's wife and first cousin, Isabella Tennessee "Dump" Forrest (Jan. 4, 1862 – Sept. 9, 1941, daughter of John Whitney "Jack" Forrest and Lovie Jane Tailor Forrest, Dump is short for Dumpling); David and Dump's daughter, Reva Forrest (Jan. 30, 1898 – 1949); Lilly Marcum Forrest (1872 – 1910, wife of Norfleet Forrest); Norfleet Joiner Forrest (Nov. 11, 1853 – Mar. 2, 1917, son of John Whitney "Jack" Forrest and Lovey Jane Tailor Forrest); and their daughters, Floy Forrest (Apr. 2, 1901 – Dec. 7, 1984) and Arletta Forrest (Oct. 13, 1904 – May 27, 1944).

David Andrew Forrest opened a store in the early 1900s called D. A. Forrest & Co. Dry Goods, Shoes, Groceries, and Furniture. It was prosperous for a time, then closed because so many new stores opened.

Judge J. Roland Reid of Haywood County has built a home on this property and included some of the original wood from the Forrest house in the construction.

Forrest
Samuel W.
25 Nov 1794
Martin Co., N.C.
30 Dec 1860
age: 56
Haywood or Madison Co., Tenn.
buried: Old Forrest Cemetery
Zilpha Sherrod
b. 27 Jan 1797
d. 24 Jun 1879
age: 73
Forrest
Whitney J.
1797
Wayne Co., N.C.
after 1827
Maria Revell Outterbridge
d. 30 Dec 1840
Whitney married Maria Revell Outterbridge who was the daughter of Burrel "Burr" and Druscilla Joyner Outterbridge.

Whitney and Maria had a daughter named Sarah Drucilla Forrest (b. Oct. 25, 1830) and two sons: George Burr Forrest (Sept. 28, 1826 – Oct. 9, 1834) and Stephen Andrew Forrest (Dec. 24, 1832).

According to a family Bible, their son, George Burr Forrest, drowned at the age of eight in 1834.

In an 1827 Pitt County land record, Whitney bought one-third interest in land from George Forrest and Thomas Forrest (Pitt Deed Book DD, page 390) so seems he was planning to stay in Pitt County while others in his family were preparing to migrate to Haywood County, Tennessee.

I can find no additional reference to this family after 1832 when their son Andrew was born.

Forrest
Winifred "Winney"
25 Aug 1804
Wayne Co., N.C.
10 July 1847
age: 43
Stephen Outterbridge
b. 26 Apr 1800
m. 5 Feb 1823
d. 17 May 1848
Stephen and Maria Outterbridge, who married Whitney Forrest had the same father, Burr Outterbridge but Stephen had a different mother. Her name was Mary.

Stephen and Winnifred Forrest Outterbridge's children were Stephen William Outterbridge (Jan. 23, 1825 – Jan. 1915, married Susan Andrews), Mary Elizabeth Outterbridge (May 4, 1835 – 1914, married William S. Briley), George Thomas Outterbridge (Aug. 12, 1823 – ?), and Nancy Elizabeth Otterbridge who died at age six (Oct. 18, 1837 – Sept 8, 1844).
Samuel Forrest
My 4th Great-grandfather, 1794-1860
Samuel William Forrest was born 25 November 1794 in Wayne County, North Carolina to George Forrest and Winifred Joyner Forrest.
In 1813, when he was 19, he moved with his parents to Pitt County, North Carolina.
Samuel was either already married to Zilpha Sherrod when he moved or married her after arriving with his family in Pitt County.
Zilpha was born Jan. 27, 1797, likely in Wayne County, North Carolina to William (1792-1841) and Smytha Sherrod (1791-1869).
The Sherrod Family

An article written by Lois Whitley Farmer for a genealogy/history book on Wayne County, states that the Sherrod name with various spellings appears in Wayne County as early as 1754 when Benjamin Sherrod of what was then called Edgecomb County, North Carolina, was included, along with William Sherrod, John Sherrod and John Sherrod Jr., in a land grant for property on "the north and south side of the Nahunta Swamp."
Benjamin's son, Henry B. Sherrod, also migrated with his second wife Anna Cogdell to Tennessee. After Henry's death, Anna remarried and migrated to Arkansas with many of her children.

Special thanks to Phyllis Edmundson, Soni LaPee and Doug Rader who are all genealogy researchers who have worked for many years on this family.
Samuel and Zilpha Sherrod Forrest likely began their family farming in Pitt County, North Carolina. In 1826, Samuel's brother, Thomas Joiner Forrest, migrated to Haywood County, Tennessee from Pitt County with the family of his wife, Charlotte Brown. She was a daughter of Samuel and Elizabeth Brown. A one-mile square tract of land (640 acres) had been given to Samuel Brown for service in the Revolutionary War. Samuel died and left the land to his wife.
According to the Brown Family Bible, they "left North Carolina on Thursday March 16, 1826. Their journey ended 'in the Forkodeer Hinterland 11 May which was 8 weeks on the road.' The family traveled with a number of families in covered wagons to their new home in the adjourning Tennessee counties of Madison and Haywood. Included in the group were the Dickinsons, Forrests, and Musgraves." Source
Samuel and Zilpha Sherrod Forrest were likely part of this group of settlers.
In 1834, Ann M. Sherrod was born in Haywood County, Tennessee. Although she would eventually be living in the home of Samuel and Zilpha Sherrod Forrest, the death certificates of several of her children list her name as Annie Sherrod rather than Forrest. I'm not certain who her parents were. She was likely the daughter of one of Zilpha's relatives who died and, since they had no children of their own, they raised her.
Samuel appears in the 1836 Tennessee Tax records as does his brother, Thomas Forrest.
Samuel owned 166 ½ acres of land valued at $1,000 and he owned two slaves valued at $1,500.
In the U.S. census of 1850, Samuel was 55 and his wife Zilpha was 56. Living with them in District Four of Haywood County, and listed as their "daughter," was Annie M. Sherrod who was 17 and Samuel's nephew, Samuel Yelverton (the son of Samuel Forrest's sister, Polly Forrest Yelverton) who was 22. The value of Samuel Forrest's real estate in 1850 was $800.
Ten years later, in 1860, Samuel "Sam" Yelverton and Annie Sherrod had married and were farming next door. In addition to their five children, living with them was 16-year-old "farm laborer" James Edward Sumner. According to his death certificate, he was a son of Nickolson Sumner.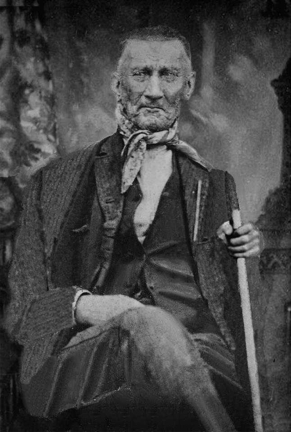 Photo: sums361
William K. Sherrod
Next door, Samuel Forrest was 65 and Zilpha was 64 and, even though Annie had married their nephew and moved next door, they weren't living alone. With them was 14-year-old Susan "Susie" Sherrod, a daughter of Zilpha's brother, William K. Sherrod (1818-1858).
Neighbors James and Susie began a romance, but it was cut short when James joined the Confederate army. You can read more about what happened to them in this blog entry.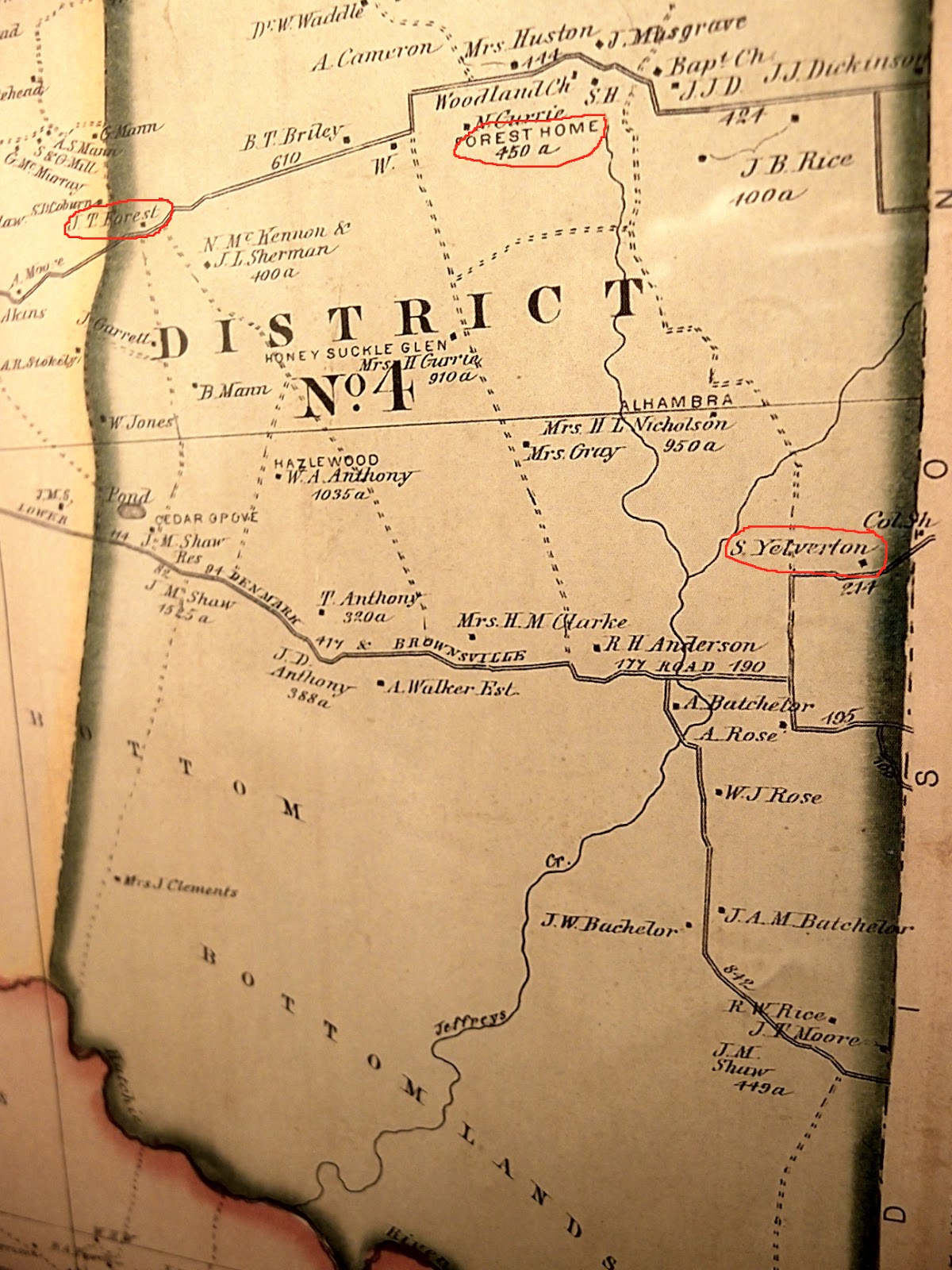 Sam and Annie Sherrod Yelverton's farm is noted on a map of Haywood County from 1877 around the middle of District Four. They were south of the "Forrest Home" and the farm of J. T. Forrest.

Samuel and Zilpha Forrest in the 1860 U.S. Census
Samuel had continued to prosper through the 1850s and, in the 1860 census, he owned real estate valued at $2,640 and personal estate valued at $10,660. I assume this refers to the slaves he owned.
Farming the land next door was 30-year-old Jesse B. Gordon and his family. You'll notice that a member of the Forrest family is living with them: 14-year-old Sarah F. Forrest was Jesse's niece. His sister, Rebecca Gordon, was married to George L. Forrest, a son of Thomas and Charlotte Brown Forrest who were part of that original wagon train from Pitt County, 30 years prior.
Sarah's father, George L. Forrest, died in 1849 while her mother, Rebecca Gordon Forrest, died in 1860, which is why she was living with her uncle and his family in 1860 when the census was taken.
Also included in this census record is the family of Samuel's brother, Thomas Forrest. Although Thomas had died July 10, 1847, his 66-year-old wife Charlotte continued to farm one of the largest plantations in the area, along with her son, John Brown Thomas Forrest.
Sarah F. Forrest, the young orphan living with Jesse Gordon, later married three times.

Her husbands were James A. Sanderson, James P. Garrett, and finally, James Calvin Neely who she married before she died in 1886 at the age of 40.

She was the mother of five children and more than 20 grandchildren. One of her daughters with James Neely, Anna Mae Neely, married William Robert Halliburton.

His second great-grandfather and the second great-grandfather of the explorer Richard Halliburton were brothers. You can read more about this famous explorer from Haywood County in my book, The Forgotten Adventures of Richard Halliburton: A High-Flying Life from Tennessee to Timbuktu.
Samuel Forrest died December 30, 1860 in Haywood County or Madison County, Tennessee and was buried in the "old" Forrest cemetery.
Zilpha died a decade later at the age of 73 on June 24, 1870 and was buried next to her husband.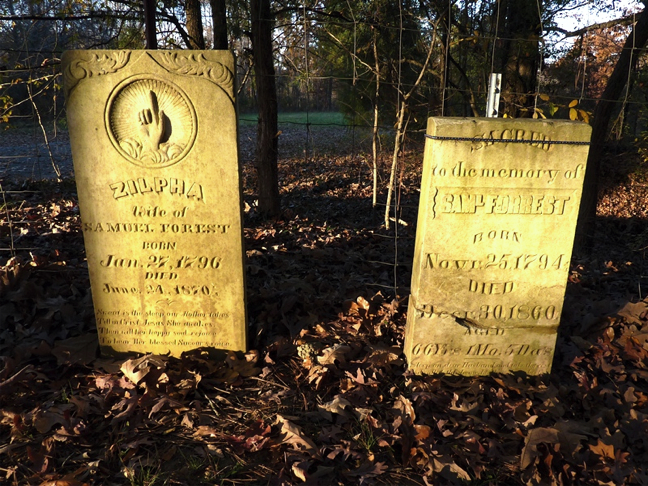 Added by Tim Batross to FindaGrave.com
The headstones of Zilpha Sherrod and Samuel Forrest in the
Forrest Family Cemetery in Madison County.
This cemetery was not maintained and was eventually destroyed by loggers. At some point, the headstones of Samuel and Zilpha were moved to another Forrest family cemetery located off Rice Road in Madison County, Tennessee. You can find out more about the cemetery and watch a bit of video from my visit there on my blog.

By the census of 1870, Sam was 41 and Annie was 36. Polly had married Benjamin F. Curlin and moved away while Maggie, though now married to Benjamin Marbury, had brought her husband to live with her family. Maggie and Benjamin are my third great-grandparents on the Marbury side of my family.
In 1870, Samuel Forrest was 15, Etheldred was 12, Thomas Jack was 10, Nancy Jane was 8, John L. was 6, Gabriel was 4 and Dolly H. was 2.
Also living in the home at that time was 75 year-old Zilpha Forrest.
The value of Sam's real estate was then listed at $4,000 and his personal estate was $1,500. According to the census, he could neither read nor write.
At 12, Etheldred and the younger children were "at school," while Sam, who was 15, was listed as a farmhand.
Samuel died in 1876 at the age of 48 and Annie died in 1880 at the age of 46.
You can continue to follow this family line on the Yelverton page, check out other specific family lines at HaywoodCountyLine.com or read more blogs posts about the history of West Tennessee on my blog page.
Do you have more facts, information or photos you would like shared here or do you see errors? Please let me know by posting below or sending me a message on Facebook.
Return Home